Friday, April 13, 2007
Yay for being able to put my feet up!

Our first CIA (the kid's Bible study) fun night is over, and was rather successful. It was a very small group, with a couple gone, but it was great for a first time. (I only got a couple of pics, after carefully charging up the camera! Too busy I guess!)

The kids came at 3:00 and after having to solve a puzzle together to work out our destination, we went to visit a farm where the farmer is reknowned for his woodwork skills, and where his wife has the greenest thumb around. They walked us through their skills and it was actually very interesting.

The country afternoon tea they served was much appreciated!

We went home then, and while the kids played for 10 minutes, Hubby and I dressed up as waiters.

The cryptic menu worked a treat. Poor Diva had a spoon and a knife for her dessert. And her friend had chicken kebabs and icecream for entree!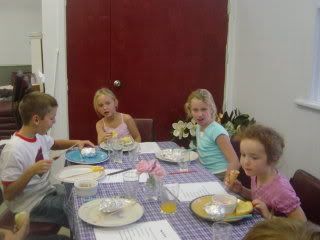 Don't worry, we realized Roly's cap was on, and it came off quick smart! :)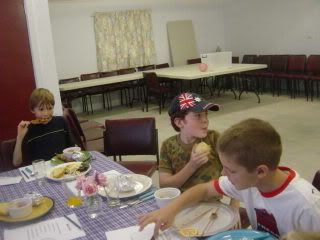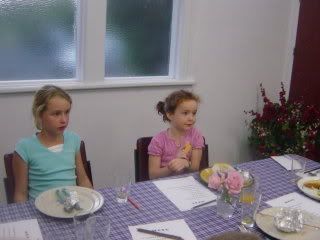 Each of the kids had been given a secret mission for dinner. I had pulled them aside at different times in the afternoon, to give them their mission, so no-one realized the others also had missions. Part of it involved asking two of the kids they knew least a set questions, without anyone knowing it was part of their mission. (Spindle's was 'What job would you like to have some day?')
And the other part involved doing something a little odd, several times, without anyone catching on that it was part of a mission. (Diva had to ask people to pass the salt 3 times, when no salt shaker was on the table. Roly had to reminisce about his imaginary frined Sigwam 3 times!)

Dinner over, we broke them into teams and played some games.
Tons of fun! And now I am pooped!

Hubby is dropping the kids off now. And I am going to have a big ol' soak in the bath.

Topsy's vocab- range update!
Last night Tospy said his first sentence!
We were at the dinner table, and I was telling them all again vividly about how Topsy shouted out 'HELLO!' at the library (the kids love hearing that story, makes them all laugh!) I cupped my hands to my mouth as I pretended to be him shouting out.
Topsy was looking on amused as well. And then when I finished, he turned to Hubby and said

H'lo AHHHH

(shouting that word out, with his hands cupped around his mouth)

Mum

!
He said it to each of the kids as well, and we realized he was telling them that Mum was shouting out 'hello'!
Clever boy!
Toodle-ooo!!
Posted by michelle :: 6:54 pm :: 7 comments links to this post


---------------oOo---------------