Tuesday, February 28, 2006
PostScripts (AKA: Are Spiders like Starfish? If Not Hobbles is a Goner!)
I am sure you have all waited anxiously for news of Hobble's condition.
The following post and attached picture is not for the queasy-stomached, so consider yourselves warned. :)
Just before I went to get the kids from school this afternoon, I went to the bathroom to check on Hobbles. He looked shocking. He was slipping through the web his buddy had concocted for him, but some of his legs were not coming with him. He was still alive though andI was going to put him down. I am glad I didn't because a couple of hour later he was like this:
See that thinly outlined triangle near the lower left hand corner? That is three of Hobble's legs. But do you know, he seems better now that they have fallen off. See how he has climbed up a ways by himself, leaving his limbs behind? Go Hobbles !! (now aka High Five Hobbles), we're rootin' for ya buddy.
I'll keep you posted.

In other post scripts..

1.Diva has finally found her dream activity. This Thursday she will be going to gymnastics, a class we checked out last year but that clashed with Kids Club. Now her age group meets on a Thursday. Hurrah!

2. Spindles has updated his blog with an Aussie joke.

3. 10 year old Roly is sending in his resume to our local grocery store tomorrow in the hopes of getting some casual employment. Someone there has given him hope, and where there is hope, you'll always find Roly hanging on by his teeth at the other end, like a hungry dog with a bone. He really is excited, so you can think of him as the risk of disappointment is high.

4. Hubby is walking around with a permanent grin since the weekend went so well. But he has 3 funerals this week.

5. Hmmm...that leaves Topsy. He has learned to bite... and when I scream....he smiles innocently up at me and tries again. Grrrr.
Posted by michelle :: 7:49 pm :: 3 comments links to this post


---------------oOo---------------
The Young and The Webless (aka Mama's Guilt)
OK so, in our household, insect life is considered not quite sacred, but still precious. I dislike webs in corners as much as the next person, but I only get rid of one if the home owner is out or if I move the home owner to another abode first.
Weird, I know.
Anyhow, there are two Daddy long legs who reside near the bath and have for a long time. Until recently. Topsy found them so irresistable, they got the hint and moved themselves!
Anyways, I hadn't seen them in a few days, but this afternoon when I wiped my hand on Topsy's towel in readiness to get him out, one of them fell onto the ground; slightly squashed and several of his legs a little the worse for wear.
Dumb spiders! They had set up their new web behind the towels! At first I fumed ' It's your own fault, lie there and die.'
But he kept trying to scramble up on his legs, and kept falling backwards. Poor little thing. I relented, picked him up and put him near a web lower down.
I kept washing Topsy who was delighted for the extra time in the bath ( more on that tomorrow), with one eye cocked to see 'Hobble's' ( yes by now he had a name!) progress.
And I saw something remarkable happen.
Spiders must be able to call to each other, ( or in this circumstance, scream!) because Hobble's roosting buddy came striding down from behind the towel and climbed clear across the other side of the bathroom to where Hobbles had been placed. He wove Hobbles a little support to sit in, and then pulled him up into it.
At this stage the actual owner of the web came out to see what was going on. Here are pikkies of what took place.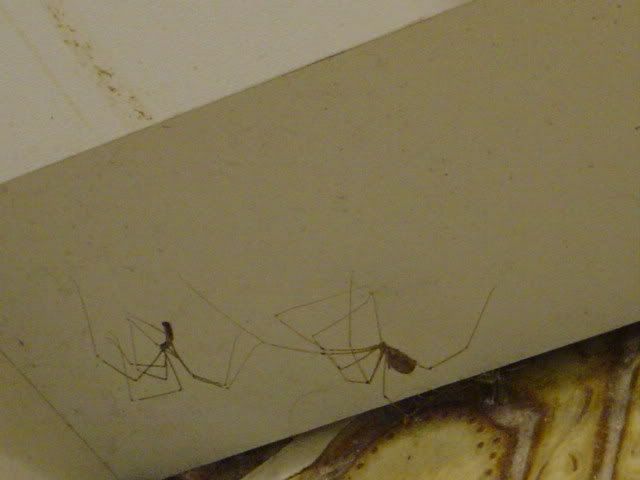 Hobbles is on the right. His buddy left and went off to make a new home. The spider on the left is the web owner. He came and touched Hobbles in much the same way that the buddy had.

Then he started to pull Hobbles up to his nest. Just as I was silently applauding his selflessness, he attacked poor Hobbles! Hobbles must have been his intended take away surprise!! Not while Big Mama was in da house! So I picked up poor Hobbles and put him in an empty web. (see pic below)
What am I doing? !! I know I will slowly drive myself nuts with this Hobbles saga. Did I mention that I heard a mouse in the roof last night..............
Posted by michelle :: 1:41 pm :: 3 comments links to this post


---------------oOo---------------
40 Days of Purpose
We had a very thrilling Sunday evening at church! It was our first time of trialling dinner at 5 pm followed by a family friendly service, with Sunday School.
5:00 arrived and so did our faithful regulars, who come to most things! We thought 'oh well, no one new. That's dissappointing but what can you do?'
So we ate our dinner in the yet-unfinished extention. Of course, a terrific storm blew up and leaked through the unfinished roof, and spat at us through the unfinished walls!
But then 3 and 1/2 families arrived! ( a good night at the evening service is 10 people, OK)
It was fantastic! I had 12 kids for my first evening Sunday School.
We are doing a 6 week program at our church called the 40 Days of Purpose, finding out for what purpose God has created us.
This is week one. Even the kids do it at Sunday School. And below are some of the creations they invented with supplied ingredients. They had to explain what their creation was and what its purpose was.
Diva had served everyone their food with her brothers. Here she is having a breather.
A nice wet draft!

A mouse trap



Too complicated for me to remember, something about sticky milk.
a candy corn harvester.
Posted by michelle :: 11:56 am :: 1 comments links to this post


---------------oOo---------------
Monday, February 27, 2006
Peace ...
Hear that?
Yep, it's silence! But for the very faint strains of Mozart as it is turned on low in Topsy' room.
He was awake almost hourly last night, and then hardly slept at all today. I am so spoilt, I really didn't know what to do.
But he is in pain poor baby.When he got up this morning, his top gums have changed. They appear to be lower (or at least you can see them more prominently), and the sections where his teeth will erupt are now very distinct.
Anyways I am a bit brain dead. Haven't stopped since Friday, so I will go and rest my drooping lids.
I really want to tell you all about Sunday night! I've got pikky's of it too. Hopefully at some stage before Thusday, my day off.
Posted by michelle :: 8:54 pm :: 1 comments links to this post


---------------oOo---------------
Saturday, February 25, 2006
Roly's link is working now! I'll be blogging again on Monday. Have a great weekend all!
Posted by michelle :: 10:03 pm :: 0 comments links to this post


---------------oOo---------------
You like my new look?
What do you think?
I really love the graphic, and in an up-and-coming post will explain its significance to me. I really wanted a green background to better frame my pikkys (ozzy for 'photo', catbird! :)), and am waiting for a reply from the template designer on that front. And what about my pikkie being pixelated!
Also I have added links to Roly and Spindle's blogs. They had their faces covered in their pics for anonymity from direct links to their sites. Spindles has certainly put in more effort into his (they tell what what they want to say and I type it in) and both boys would appreciate comments to encourage them in their blogging.
Posted by michelle :: 12:45 pm :: 6 comments links to this post


---------------oOo---------------
Google Search!!
This morning I awoke and checked my site meter, only to see.... My Book.... In .....French!!
Read:
Les Tapisseries du Livres un d'Oquis: Fils Embroill
Wowwww!!
Of course the fact that the French gentleman had found my book in a Google search for the 'capture and tickling of man ' ( I kid you not! ) is totally irrelevant. :) So is the fact that my book was the third best result for that particular search.
Ooohh laaaaalaaaaa! What a scream! Needless to say, Ma French ami, he did not visit long.
I have a couple of other escapades with hilarious Google searches, yet this was the most family friendly.
Thanks Google!!
Posted by michelle :: 9:48 am :: 1 comments links to this post


---------------oOo---------------
Friday, February 24, 2006
Crumbs from our Table
* Guess what? I got rid of my maternity bras. About time too. They were holier than both Hubby and I put together. :) I am still breast feeding Topsy, but don't need as much immediate access anymore.
*Roly scored a basket at the first game of the season tonight! . Sadly I couldn't go last night because the game was at 8:30. Roly called me from the car on the way home, so I had the camera waiting to capture the moment as he came in the door.
*Spindles came out just before 10:00 last night to tell me that he he finished so early with numeracy today, that his teacher let him out 10 minutes ahead of the rest of the class at recess. He was terribly (ooh sounds British, don't it?) proud of himself, and so are we.
*Tonight some of the kids' friends and their families are meeting us at a park in town to have a BBQ. The kids are all extrememly excited. I hope it goes well, because I'd like to make it a twice- termly event.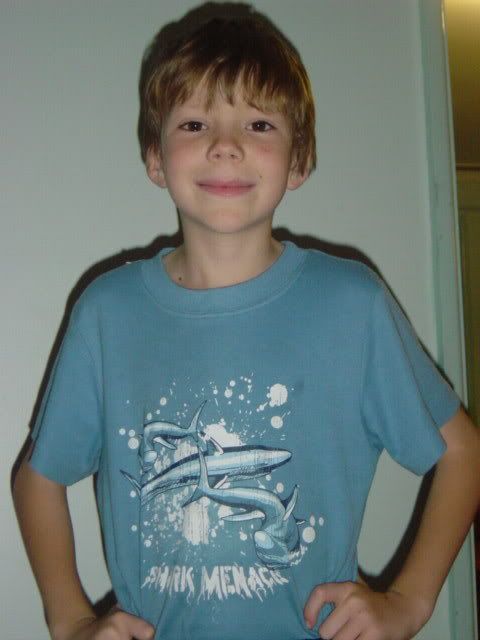 Wide awake and Proud at 10:00 pm!
Exhausted but elated!

Posted by michelle :: 1:35 pm :: 4 comments links to this post


---------------oOo---------------
Thursday, February 23, 2006
Physie
Here she is just before we left. On the way in the car diva said, "There will be lots of mats at Physie, blue ones like at gym."
There weren't any mats of any color.
On the trip home, I said "Tell me one good thing about Physie."
She said "One bad thing is that there was a LOT of marching!" ( doesn't that sum it up succinctly! :)
But later on, she did ask to practise marching and toe pointing, posture, etc.
I actually thought it was great. They would go step by step through a series of movements, practise it through a couple of times, before then performing it to music. There was a lot of hard work, mainly all standing up during that hour, but the teaching style was excellent and I think Diva will decide to go back (see the first lesson is free)
Posted by michelle :: 8:20 pm :: 3 comments links to this post


---------------oOo---------------
Wednesday, February 22, 2006
Scrapbooking
Scrapbooking
I am tired tonight, so rather than think of something interesting we all did today ( Diva was home sick and Topsy felt coldy as well), I went back to photo archives and dug up several samples from the one and only time I have scrapbooked.
I was not adept with the old digital camera then, was I? The colors were a lot more vibrant than they seem here, especially the boys' ones.
BTW, the other two girls are my sister's gorgeous girls.
Posted by michelle :: 8:13 pm :: 0 comments links to this post


---------------oOo---------------
Posted by michelle :: 7:50 pm :: 0 comments links to this post


---------------oOo---------------

"A Gem of a Blog"

Every woman in my immediate family (mom, sis, mom-in-law and both sis-in-laws, oh... and moi! :)) are actively involved in church ministry, some full time. And when I thought about that yesterday, I decided I would tell you all, (especially them) about a blog that I check out everyday.

Catbird of

The Catbird Seat

has a new article up nearly every day, sometimes a couple. I find her such an encouragement, especially from the angle of being a a woman in ministry, and the

adventures

that it can bring.

I SO relate to her

parenting issues

and her

zaniness

.

I look forward to reading about how she approaches the ministry fields we share (

Sunday School

and

entertaining

)

.



Catbird shares her

human side

, her

fallability

and that is probably what I like best!

So check her site out, and I dare say you will RELATE! If you are not particularly computer savvy (which means you are probably a family member!:)) any highlighted words above can be clicked and you will go to one of Catbird's writeups about that topic. And don't forget to leave her feedback!
Posted by michelle :: 8:49 am :: 2 comments links to this post


---------------oOo---------------
Tuesday, February 21, 2006
Diva is a Physie girl
This year Diva wanted to be involved in something active. Because Saturday doesn't really suit us, our options are limited. I called to enquire about Jazz lessons, but the price, as well as how much her outfit would cost, floored me. I could feed a family in Kenya an entire year for less. Then I remembered a something that other moms in our last town call Physie.
I called up my local tourism number to find out what it actually stands for, and if Tamworth had a group. They DO! And lessons are early in the evening on the same night that Roly has Basketball, so we'd be in town anyway. And they are CHEAP! I love a bargain!
Diva was so thrilled to find out, she put on her leotard (also Cheap) and danced around trilling "Physie, physie, I'm a Physie girl!' .(and just about drove Hubby nuts!)
If you want to know more about
Physie
and what you can expect
Diva to be doing
, click on the highlighted word for info.
For those who pray: Diva will know no one at Physie to begin with and this is a real fear for her. It threatens to overpower the bliss she feels at being a 'physie girl.'
The boys practising basketball on the foundation of the church's extension.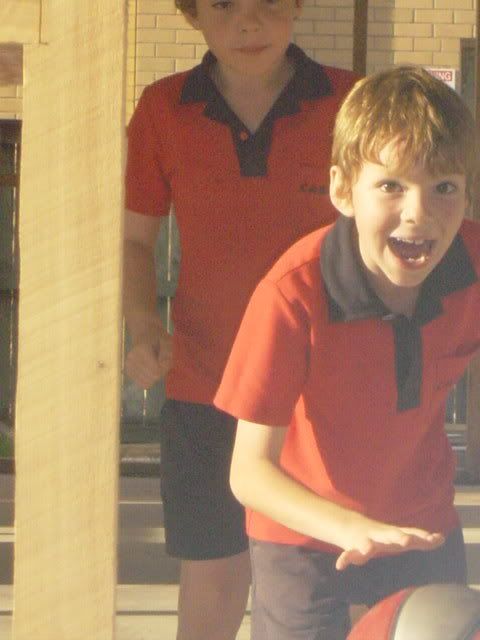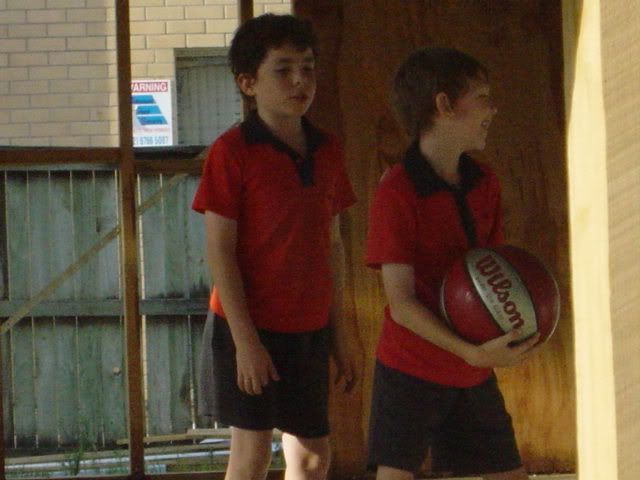 Posted by michelle :: 8:19 pm :: 6 comments links to this post


---------------oOo---------------
Monday, February 20, 2006
How was I to know?
Topsy usually likes a sandwich (vegemite, honey or cream cheese) with whatever-flavored mush I am spoonfeeding him at that particular meal. When he is full, tired or teething, he pushes his food away.
Tonight at dinner however was different. He shoved his sandwich away with an aggressive squeal. He leant forward to peer at Spindles, and then turned back at me with an accusatory pout. He proceeded to hold his remaining sandwich up and out, staring cooly at me as he let it fall to the ground. After making sure it had landed, he looked back at Spindle's plates witha sad bleat.
His complaining was putting me off my food. I just wanted to eat a meal without gulping it down. I wanted to listen to the energetic, sensible conversation of his siblings. A distraction. That was what the situation required. What could I use?
Hubby's untouched bowl of spag bol lay innocently within reach. Perfect! Inwardly praying that he wouldn't choke on the stuff, I grasped some spagetti strands and bigger chunks of meat and plonked them into a bowl. As soon as I put it in his tray, Topsy snatched handfuls of spagetti up like a starving waif.
He tested...he pulled... he dropped tiny meat chunks down to where his sandwich lay. He tasted... he looked at all our plates as if to make certain that what he had was the real deal. Finally satisfied, he tucked in (Aussie for 'ate with enthusiasm!). That was what he'd wanted the whole time. But.....
How was I to know he wanted to eat spagetti at 9 months!!!!!!
"Mom, look at Topsy? He's eating spagetti like us!" Diva screamed in delight.
She was right. See for yourself:
' I can't resist the temptation. Going, going...'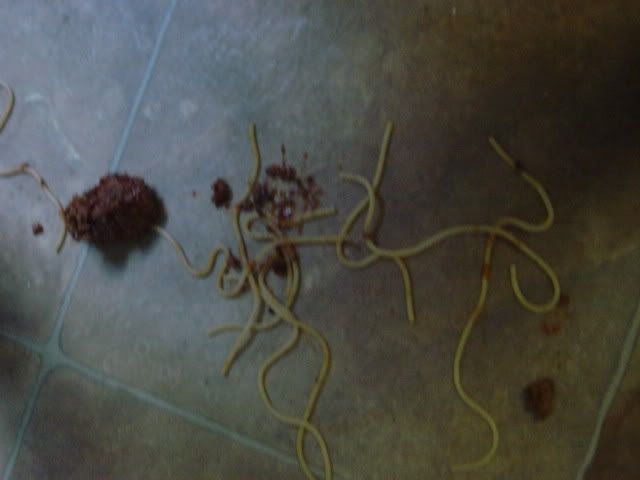 'Gone! '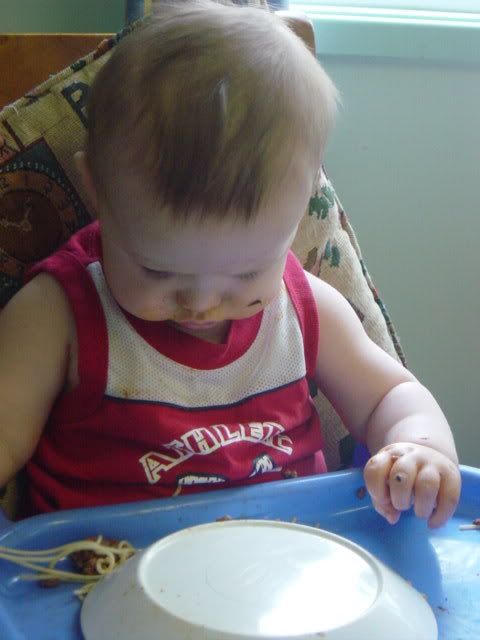 ' That was real goood!'
'Oooops, I can't forget my manners though. I'd better lick my plate like Momma always does

. '
Posted by michelle :: 7:20 pm :: 6 comments links to this post


---------------oOo---------------
Saturday, February 18, 2006
Summer Rain
The droplets were so gorgeous from the kitchen window, I tried to capture them on my camera. Didn't do them justice, but I actually like these shots.
Posted by michelle :: 8:29 pm :: 4 comments links to this post


---------------oOo---------------
The Dryad at the end of MY Rainbow
The rain had just finished torrenting down and I was taking pictures of the droplets when I thought I'd take some of Diva and experiment a little with my camera. These pictures really capture the exuberance of Diva being Diva. My little Dryad!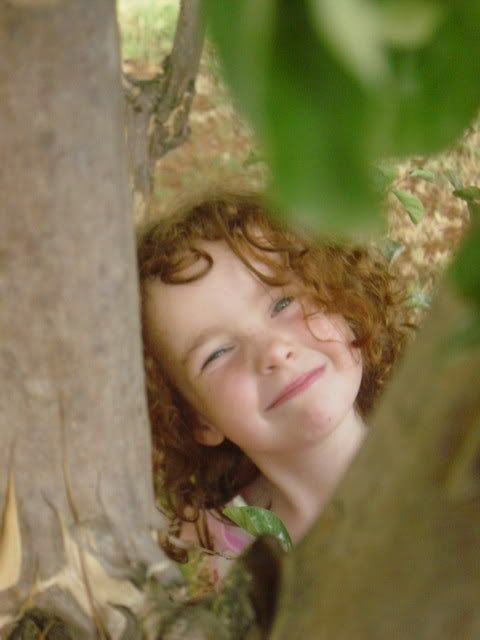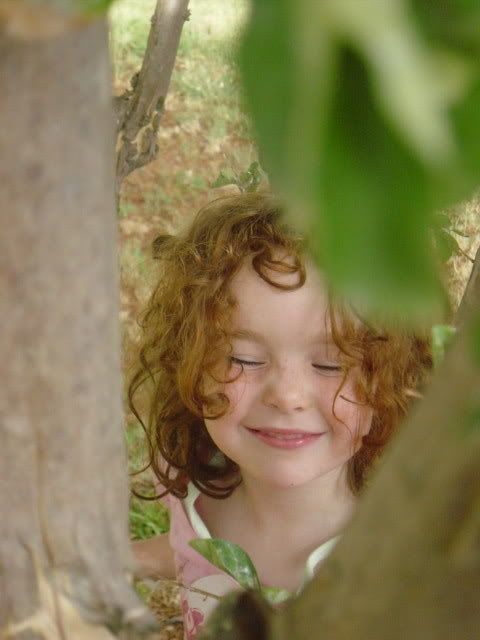 Posted by michelle :: 8:21 pm :: 4 comments links to this post


---------------oOo---------------
Playday
Topsy was the only one who didn't have a friend over today. Spindles went to his friends house, and Roly and Diva's friends came here.
Diva was up at the crack of dawn...waiting! ( well it felt like it)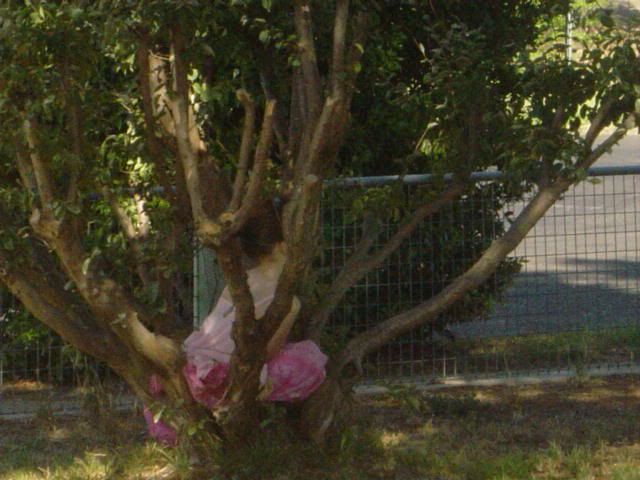 Her friend wasn't supposed to get here till 10:00, then they were 20 minutes late. Imagine my frayed nerves after Kara checked the time and gave me the rundown of a rough plan of the day, for the umpteenth time. I was praying the girl would show up too! :) Just for some peace and quiet.
Diva's much anticipated friend! I never had a chance to ask permission to show her face, so this photo will do. They played hard for four hours straight, only stopping to eat and to bake some Choc Chunk cookies.
Roly and his buddy mucked around on the computer for a time, and spent lunch thinking up impossible maths problems for the poor girls.
Posted by michelle :: 7:11 pm :: 0 comments links to this post


---------------oOo---------------
Friday, February 17, 2006
Good old Fashioned Childhood Fun
They discussed...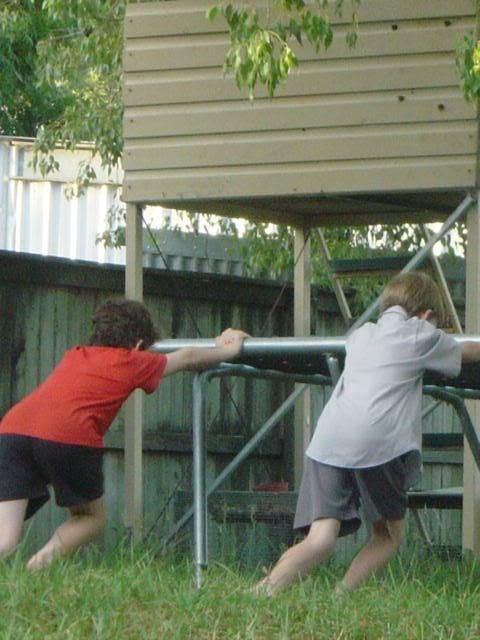 They pushed....
Posted by michelle :: 8:36 pm :: 1 comments links to this post


---------------oOo---------------
...while Queen Diva watched from her perch.
Posted by michelle :: 8:31 pm :: 0 comments links to this post


---------------oOo---------------
Topsy helped too! (Or so he was led to believe)
Success!
Still helping....
I did good!
Posted by michelle :: 8:21 pm :: 1 comments links to this post


---------------oOo---------------
Lynda La Plante
I am having a date with Lynda tonight. It has been quite an uneventful day, not tiring, just housecleaning. (Now before you start thinking how good I am, let me explain: It is a play day tomorrow. The kids each have a friend coming over. Hence I cleaned.)
Tonight Hubby is away, tomorrow will be hectic and draining; so tonight I am snuggling up on my ownesome to watch Lynda's latest miniseries on TV. Apparantly it's not for the fainthearted.
It would be better if I had chocolate, but I can't. My one naughty Valentine's day turned into three. Then yesterday I couldn't believe , (in that shot of me and Topsy on the bike ride), that the cyclist wasn't actually Spongebob Squarepants . That is me?!!!
So it is Spongebob, Lynda and a soda water spritzer!
Posted by michelle :: 7:41 pm :: 1 comments links to this post


---------------oOo---------------
Thursday, February 16, 2006
We Went For a Bike Ride This Evening
This is Topsy in his buggy.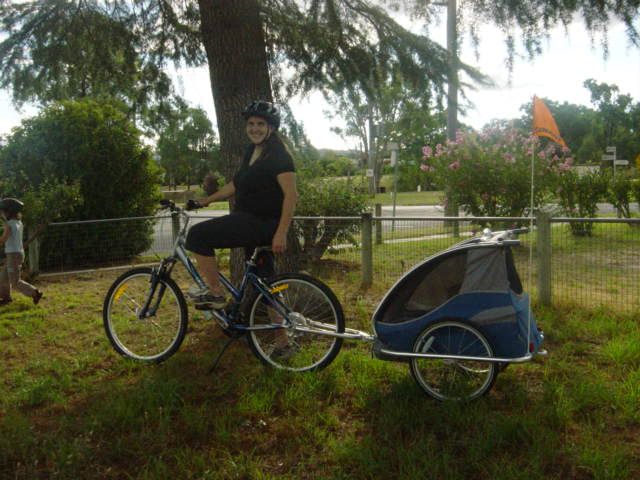 Posted by michelle :: 6:41 pm :: 5 comments links to this post


---------------oOo---------------
Trying to chuck a Sicky!!
This morning while I was sipping my Jarrah, watching my precious ones in their flurry of getting ready for school, Spindles rushed in, beet-red in the face and proceeded to vomit his brekky into an icecream bucket. A classic, what-we-call-in-our-household 'dinner is served" moment' . Morning Jarrah not tasting so good no more!
I said:' Right, Spindles, you not going to school today."
And this is what happened for the next 25 minutes. Both Diva and Roly wafted like bad gas around me, muttering loudly about the life threatening illnesses they had both suddenly and mysteriously been afflicted by. I checked both heads with my lips, declaring them to be "cool as cucumbers' (I remember how I hated it when you used to say that to me , Mom!:))
After dismissing my lips as a totally fallible means of checking one's (faked) illness , and searching for 10 minutes to find the thermometer, Roly's dialogue was now interrupted by lengthy sessions of temperature taking. Great maths workout actully. Our thermometer needs .4 added to whatever the given temp is, due to an overvigourous clean I gave it once.Roly even put the thing under his arm pit!
I suggested that in the interest of accuracy, he might let me take his temperature the way a vet does with an animal. He showed initial interest, but after I described what it would entail, Roly kept HIS tail out of reach! But I still had to pull the darned thermometer out of his mouth as he walked out the door.
AAIIIGHGHGH!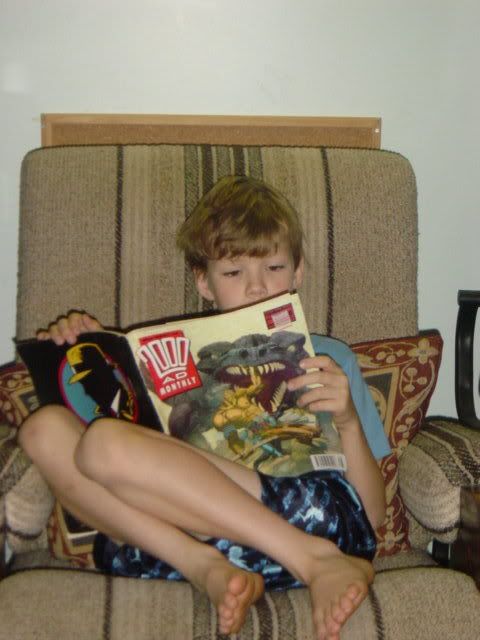 Spindles likes the thought of reading all day!
Posted by michelle :: 12:04 pm :: 2 comments links to this post


---------------oOo---------------