Wednesday, December 13, 2006
Just another Manic Wednesday, Oh Ey Oh!

Well today didn't start off great. When Topsy was having his morning sleep, we thought we would prepare for building a campfire, by watching a 10 minute instructional video. You Tube has this nifty mini-communty called Expert Village, which has hundreds of 'how to' videos. So cool! And free!
The problems started when Roly decided, 50 seconds into the video that he already knew everything there was to know about setting up a campfire. ( Having gone on an overnight trip with school in first term, with lots of adult supervision.) Diva who was desperate to just do some hands-on fire buildin', jumped on his bandwagon a bit. So less than two minutes into the video, I turned it off with a 'humpmmmpphhh! Alright Roly, you can make a fire from scratch, and cannot learn any more from someone who has taught it for 8 years? Alrighty then, well you show us how it's done!'
He started out very enthusiastically, and I gave him a limit of 20 matches.
Well, all I'll say was that, he has come to realize that a 10 minute instructional video may be come in very handy. LOL!!! ( Oh and the reason I am using the video rather than teaching the 'how to' myself from our SAS survial book? I feel it would be a bit hypocritical, seeing as I have never lit a campfire all on my own.)
Well after Tospy's second sleep, we ventured to another friend's pool. Their own children have moved out of home, and they live right up amongst the hills, about 8 km from us. it is just a gorgeous place to live.
Well, the welcome was generous and the pool was exquisite. And to top[ it off, half of the pool was in the shade. Our hosts had a lot of pool toys.....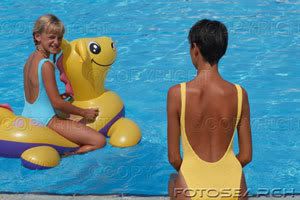 which entertained us, almost as much as watching each other practise diving!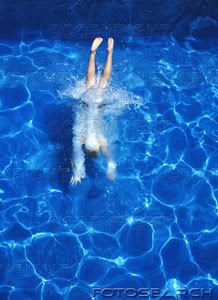 And guess what? Our hosts have kangaroos, wild goats and reindeer in the hill on their property. What an eclectic mix, huh?
After dinner, even though we were exhausted from the swim, we dragged ourselves over to our Oasis for half an hour. The Oasis is a little disappointing at the moment, if I am being totally honest, seeing as someone has almost completely stopped up the running water with a deluge of rocks. And what meager water there is to play in, is made quite hazardous by the hovering throng of thirsty bees and wasps.
I am about to crash now, having put children to bed, and done a half hour on the manual treadmill (that my friend Funny farm loaned me).
I will probably not blog tomorrow. but on Friday night it is Spindles' birthday party, the laser one, so I will take tons of pics and show you how it went.
And then Saturday night is our Church Christmas party. We all just bring food for ourselves and a dessert to share. It is always held at the home of a parishoner who has a pool to keep all of the kids and hot people happy. It should be a ton of fun.




Posted by michelle :: 8:35 pm :: 6 comments links to this post


---------------oOo---------------