Monday, December 04, 2006
Help Me: I want to be crafty!
Today I heard about a great idea for Christmas. Gift bags that you sew out of Christmas material. They sound a little like a simple pillowslip, but of course you can re-use them instead of throwing out tons of 5 hours wrapping worth of Christmas paper that has been torn off in 2 minutes. I really liked the idea, but the person who blogged the idea has only given the vaguest of decriptions, as if she is instructing a group of fellow seamstresses, of which I am not. I do not even own a sewing machine.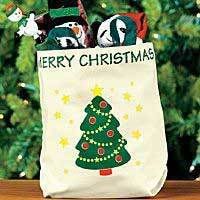 *gasp*
So if anyone has ever made anything like these before, please clue me in...SOON!
I won't stay chatting. Just a humdrum day today, nothing thrilling. Though I did make my signature dish for our Bible study group tonight: Morroccan lamb tagine. I was a bit short of the key ingredient, but I put in a ton of veggies as well and served it over couscous.
P.S. When I went searching for a pic of the reusable gift bag I found some pretty simple instructions, but please let me know if you have any tips, regardless.
Talk soon!
Posted by michelle :: 8:15 pm :: 6 comments links to this post


---------------oOo---------------