Monday, December 18, 2006
Is anyone else finding it hard to blog at present?
It may be the heat or all the extra stuff on, or all the kiddos being home. I don't know what it is but finding time to blog is pretty hard at the moment, and when I do have the time, I am tired and blogging is the last thing I feel like doing. I have been reading you all, but I need to improve on my commenting. Sorry!
Anyways, here is just a short pictorial look at Spindle's laser party.
It went so well! The almost two hour trip was definitely worth it. Echidna Gully was certainly out bush, and the lady who ran the party did a great job. She would divide the kids into two groups (well actually she had Spindles and Roly pick off the kids to be on their teams. I am so dead set against that kind of team picking. It is so cruel, and it is the only bad thing about the party) and then she set scenarios for them, so they had set missions to do. There were 19 of us all up, though diva, Topsy and I gave the lasering a miss! Hubby and the other two Dads who volunteered to help transport all the kiddos up all played and had a blast. They actually said it was more fun than paint ball.
Instead of the hour I had set aside for dinner, I did the BBQ while the guys were experiencing their first hour, and then we ate in about 10 minutes. (The people who run the place suggested that, 'cause they said that a lot of groups are not hungry right after, rather just thirsty. And they were right.) Then after the quick sausage sandwich and the birthday cake, they went straight into the second hour. So we finished at 8 pm and got home by 9:45, which was good.
The laser day will certainly become an annual outing, though next time it will not be a party; that way everyone can pay their own way! :)
So without further ado: the slide show. I am not doing a fancy slide thingy, as some people's computers don't load them well.

Spindles protects his friend as he runs to safety.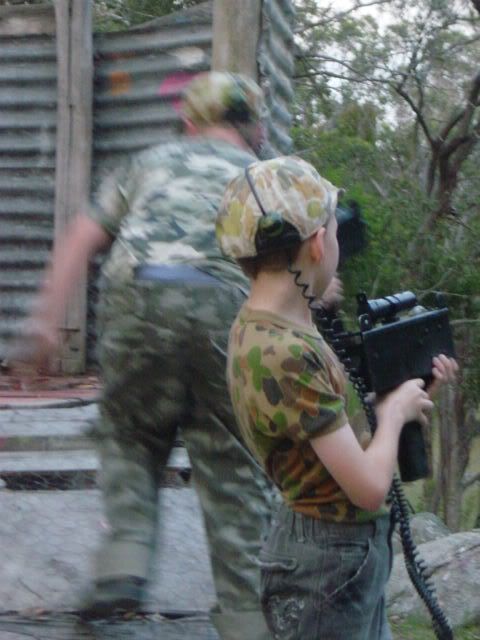 Spindle's best buddy strikes a pose for MamaC

Getting the enemy within his sight.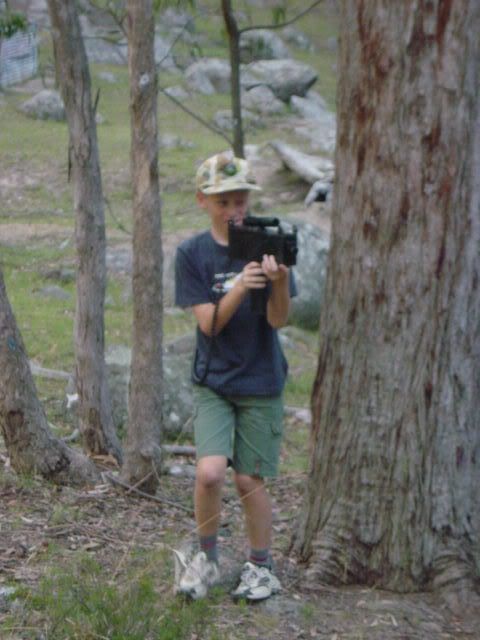 Taking aim.

Hubby apparantly giving Diva a turn. (Just at the last moment, as in five minutes before the end, she decided she would like to have a go. I was not about to pay for five minutes! So Hubby let her have a go of his..... sort of!)


Posing while under attack.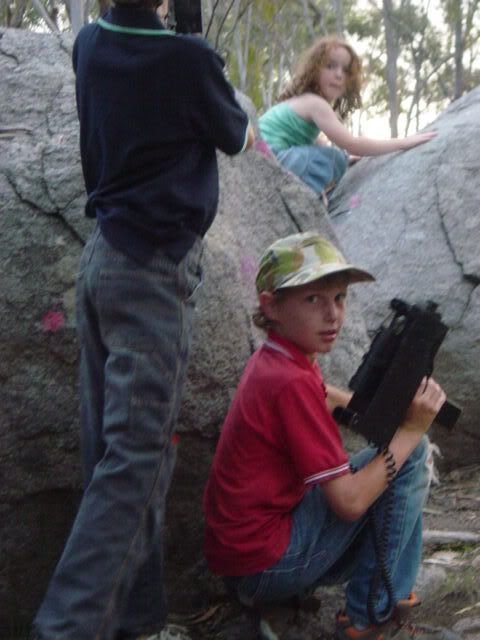 Concentration.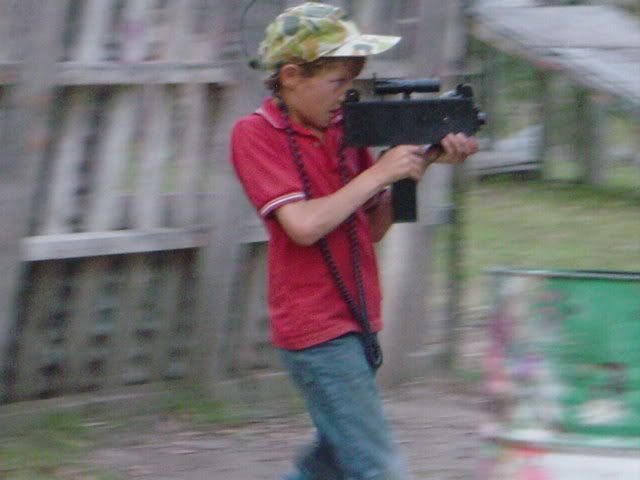 Flee!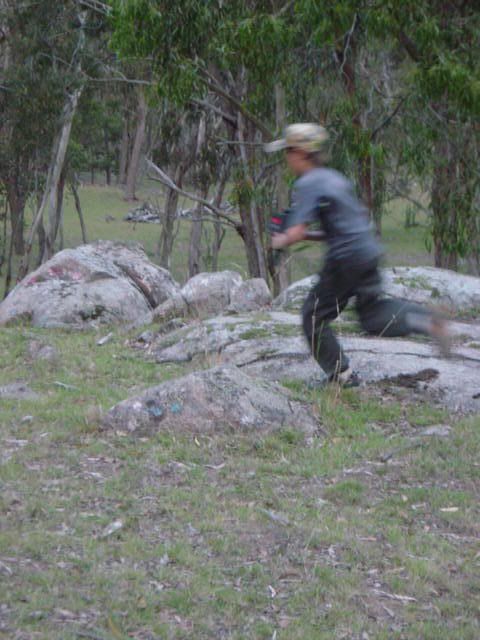 Some of the terrain.....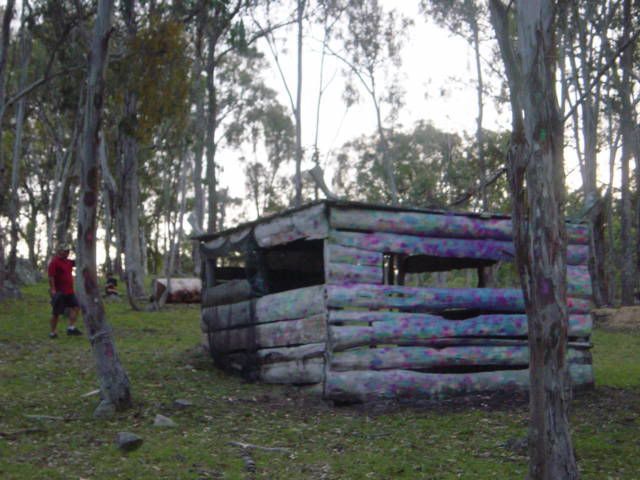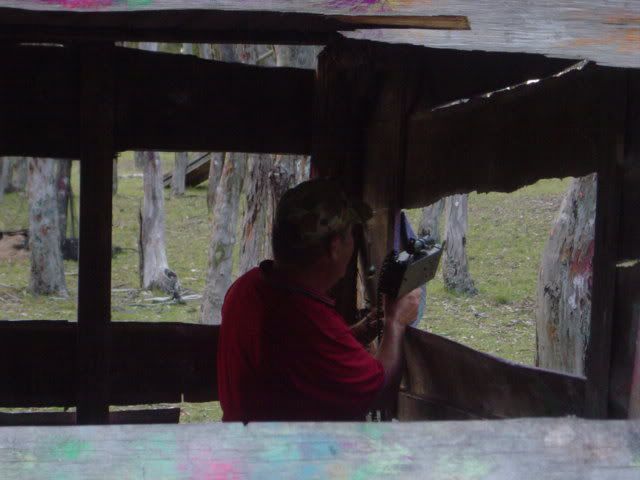 Roly having a blast in tactics mode.....


....but still has time for a chat with Topsy.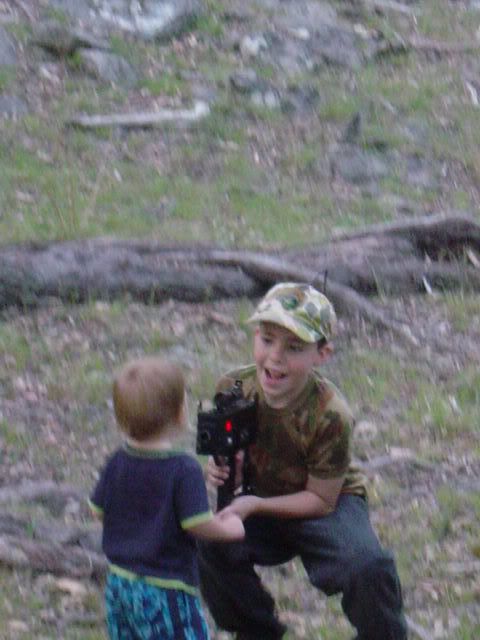 Topsy taking huge strides....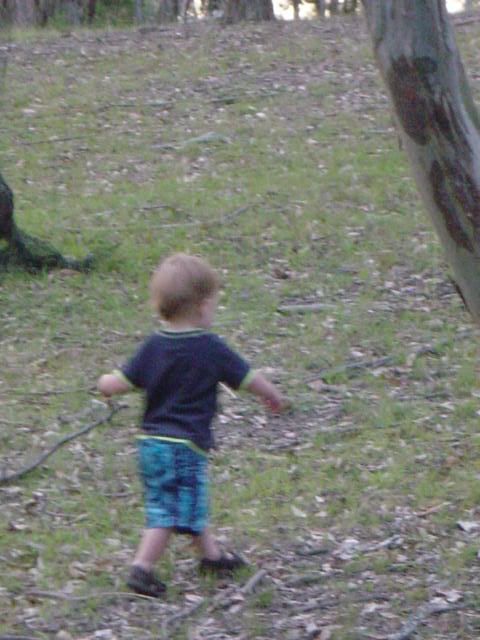 ...trying to keep up with the big boys.

Wrapping it all up.


A day Spindles will never forget.
Posted by michelle :: 8:47 pm :: 9 comments links to this post


---------------oOo---------------