Wednesday, October 25, 2006
I probably left a few things till the last minute for today, hence I felt a bit rushed.
We had our second book club meeting happening at 11:30, so I had quiches and gourmet sandwiches to make for that. Then I needed to get the house set up for 5 children, of three different age brackets, to be entertained in by our new batch of babysitters.
And somewhere in there, finish prepping for the Kid's Club lesson. Arggh!


I actually ran out of time to finish reading Emma, so I did the ultimate cheat for a bookclubber and 'CliffsNote'd it online! *gasp* It took a lot of pressure off me though! And I felt I could talk with AUTHORITY. Ha!!!!
The quiche was nice but the crust was slightly thick and unyielding. Note to self: making one's pie crust in the bread maker does not produce crisp, flaky pastry, rather it leaves an over pummeled sad lump that tastes the same either raw or cooked.
My favorite quiche recipe is just plain quiche mix (eggs, cream and grated cheese) topped with thick tomato slices rolled in fresh basil. Mmm mmm.............Dreamy!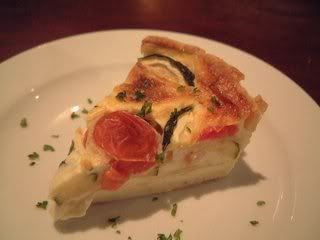 It ended up being a bit of an edited meeting. We are a very flexible group, so we answered a couple of discussion questions over our lunch, and also managed to catch up with each other a little as well! Forming relationships is one of the main aims of the group after all! And we cut the whole thing by half an hour due to.... just stuff!

Our next book is 'The Secret Life of Bees' by Sue Monk Kidd, whose articles I used to read in the Guidepost magazine as a teenager. It looks to be fantastic.


Kid's club went particularly well today. I really prayed about the story and that the kids would understand it. The extra practising helped too, so I was able to pretty much tell it without glancing at my notes. It was great to see all their little faces too!

The kids have gone back to school very well.
Roly is just loving it. Every day this week when I have gone to pick him up, he has run down to me, beaming all over his face. Such a difference from the sad and sullen facade he wore last term to hide his hurt feelings.


I think I said in a previous post that Roly went to a party on the last day of last term that his tormentor and cronies also attended.
This was a real turning point.
The boy is so friendly to him now, and Roly still has his best friend, of course, but with the three boys' attitudes towards him transformed, life is so much easier.
And due to his huge improvement in concentration and attention to his work, Roly has also today earned back the extreme privilege of ILC (independant learning centre) where he goes out to a much smaller class (6 students) 3 times a week, and pretty much gets to set himself a topic to research for the year. His chosen topic is Warhammer. (don't ask!)

Anyways, I am just gonna leave the chit chat there and go take a well earned (?) rest.
Talk soon!
Posted by michelle :: 5:48 pm :: 12 comments links to this post


---------------oOo---------------