Monday, September 11, 2006
I can barely even remember my weekend.
It was a blur through which I seemed to retain a perpetually bad mood, thanks to womanly reasons. (I actually hope that explains a few things, Overthere!)

Though I was very joyful after I heard from Roly's teacher on Friday afternoon.
Ooops, I'm getting ahead of myself. Let me backtrack a bit!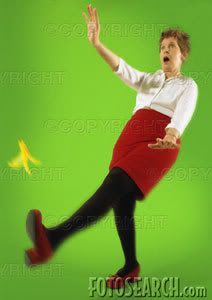 Remember how I posted about the letter from the boy who hurt Roly last week. Well that quick response prompted me to write a letter that I had written in my mind many times over, but had just never done in pen.
Roly has been targeted all year really by just a couple of kids; having his bag kicked to other classrooms, his pencil case opened and bits and pieces broken, his head smacked etc.
Roly understandably was a bit of a basket case at the beginning of last term. I was reading up on panic attacks in children and wrote to the teacher, and had an interview with the Junior shool principal.
The teacher was great, but the junior school principal seemed to think that the kids were getting annoyed with Roly becuase he would continually ask them what was on the board. (Huh? 1. he needed glasses which was why he couldn't see the board. 2. He would have NEVER asked those guys for help!) His solution was to get a couple of boys to 'spy' on Roly to see if he was exaggerating. The spies reported that all was well! Who were these spies, I'd like to know?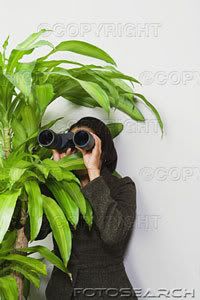 Anyways, I felt quite defeated.
Then after the KEYRING episode, and the letter I wrote to the principal of the entire school, I have realized where I need to take any matters of concern. To the top, baby!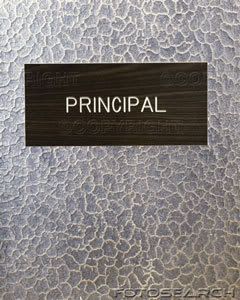 So I wrote the letter about what has been going on and sent a copy to both Roly's teacher and the Principal. The day I wrote it, I was speaking to a Mum whose son is being bullied by the same exact kids. He had never told her till that day.
When she asked him how long he'd been putting up with it, he stopped to think and answered: 'Four years."
So I added the parent's info, without revealing any names, to my letter, and sent it with Roly on Friday with a thumping heart.
And I got a great letter back from the teacher, who will call me this Wednesday to talk about the strategies they are putting in place to stop what has been happening. They have also very swiftly identified other victims of these kids. The principal has sent me a letter as well, which I have not yet received. But Roly came home, overjoyed at how seriously they are taking it all (specially as he did not even know about the letter).
So hurrah!!! Thanks God!

Now to the OCD and gene pool thing.
Well my childhood OCD really involved not hurting anything's feelings.
First let me say: my poor sister!
At night I would say 'goodnight' to her over and over and over and over... (I am not kidding!), and she had to say 'goodnight' back in response to each of my 'goodnights'!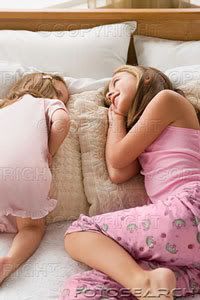 Why?
Because each of my 'goodnights' needed a friend (her 'goodnight') The worst thing, Robyn could do to me, her most devious and dreadful weapon, would be to remain silent after one of my 'goodnights'.
The mental anguish of knowing that there was a spoken 'goodnight' floating around out there in the atmosphere, all alone!

It was the same with food. I always cleaned my plate of food.
The thought, that a piece of carrot would be separated from all the other carrots it had gotten friendly with on my plate, was unbearable. So down the hatch it went with its buddies, regardless of how full my tummy was!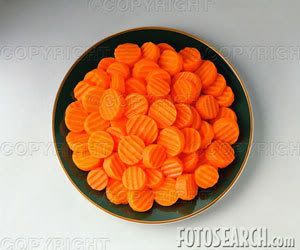 Thankfully the OCDs have gone by the by, but I saw them rear up in Topsy today. And I plan to capture his OCD on video soon!

Here it is:
We were at the park this afternoon, going up the steps and down the slide, again and again...
The park has that barky stuff around it. You know, the wood chips that gets in your sandals?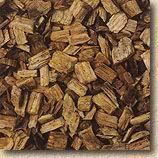 Well, up the steps we were going, and Topsy saw a wood chip on the first step. He stopped and picked it up. After assessing it and looking to see where it had come from, he gently placed it on the ground.
He didn't drop it on the ground.
He actually placed it on the ground.

Then back to the steps. First step. Fine. Second step. A wood chip!
He picked it up. I helpfully showed him how to drop it down to the ground from where he was. He listened gravely till I was done, then eased himself back down to ground level, and PLACED the chip on the ground.

Then back to the steps. First step. Fine. Second step. Fine. Third step. Fine. Fourth step. Fine. Fifth and final step. A wood chip. He picked it up. Again, I helpfully showed him how to drop it down. Again, he listened gravely till I was done, then eased himself all the way back to ground level, and PLACED the bark on the ground.
!!!
And remember that each time we came off the slide and back to the steps, our shoes dripped the odd piece of wood chip onto the steps to be discovered and gently rescued next time around.
I find it fascinating!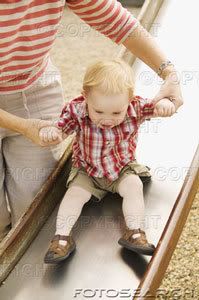 OK, over and out from me!
Talk soon!
I leave you with a pic of the flowers my gorgeous kids picked for me on Saturday!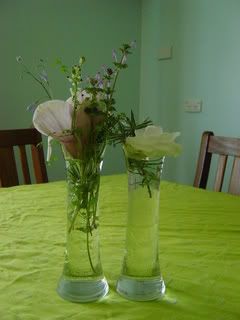 Posted by michelle :: 3:23 pm :: 8 comments links to this post


---------------oOo---------------