Wednesday, August 02, 2006
1. When I have the time and means, I much prefer seeking out a bargain in garage sales and on ebay, rather than buying someing brand new.
2. My secret ambition as a teenager was to be a travel agent or to work with Qantas (Australian airline) so as as to get great travel discounts.

3. When we left Sydney for Hubby's new country job, I was only one subject and one prac off getting my Post Grad of Counselling. My lecturers had approached me about pursuing my Masters. It was something I really enjoyed doing. How quickly things can change. All these years later, and I still have not finished the final two subjects, because finishing the course and doing the prac would have been complicated from such a distance.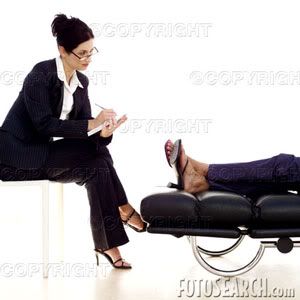 4. For 2 years, writing filled my spare time. It was certainly my passion, in fact other areas of my life suffered. But when I learned I was pregnant (with Topsy) the passion left me in an instant. I have not written (book-wise) since. Bizarre really!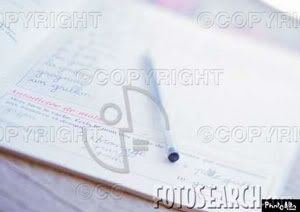 5. I love crime fiction. Love it. especially finding out whodunnit and the WHY. Yet real life crime that I hear about on the news upsets me terribly.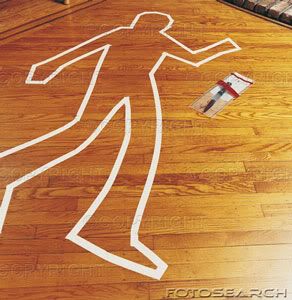 6. When I was 21, an optician told me that I was a strong candidate for glaucoma. It was untreatable and I could potentially be blind by 30.
Ummm. I really should go back and have that checked out! Ooops!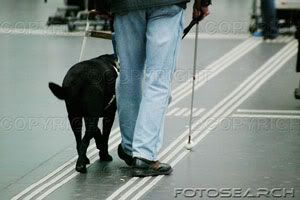 OK, I tag all of my blog buddies who would like to have a go! Lillipilli, Sunshine, Over There, anyone who has not done one recently.

Sickness update: Diva has not been to school since thursday last week, and by the hacking cough I can hear in her bedroom, she will probably be home tomorrow.
Both Roly and Spindles have been home since Tuesday, and I hope they can go to school tomorrow.
And good news on the Topsy front. Yesterday he ate like his old self. I had to take photographic proof, of course.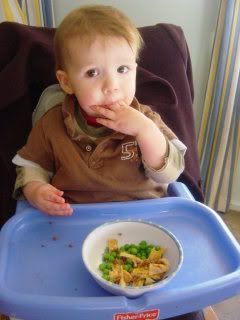 Today he has been runny-nosed and a bit whingey, but much improved on the last fortnight.
I could tell he was getting better because he took the time to be naughty.
First he went over to my 'African table', grabbed whatever he could reach (that is one place he knows he cannot touch, and generally he stays clear of it ) and dumped it into his toybox. Then before I could react, he scampered his naked butt over to climb up a cabinet and try to knock down a photo! The hide of him. like he was trying to do as many naughty things as he could before his luck ran out! So strict Mama is back, but he is secretly relieved that he is well enough to be mischevous.
Oh and check this out.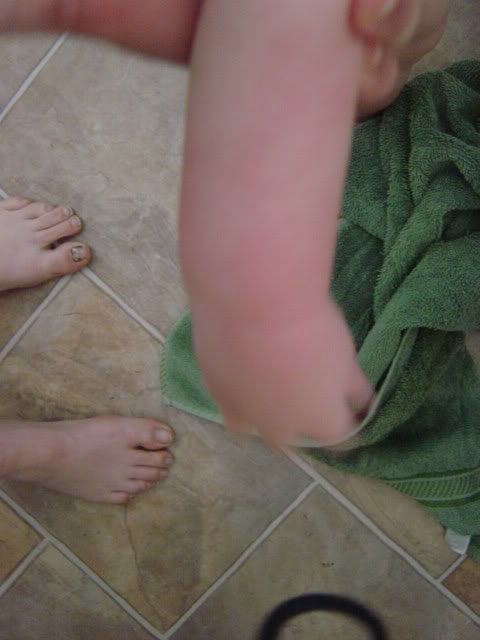 It might be hard to see, but Topsy has developed lots of hives all over his body in the last couple of days. They come and go just like Diva's. Poor possum!

Posted by michelle :: 10:26 pm :: 7 comments links to this post


---------------oOo---------------