Wednesday, August 23, 2006
I wondered if I would be able to do kid's club today, as once my cough gets going, it really hinders any talking I want to do!
But things went ahead without a hitch.
Everyone listened and participated well.
I chose two of Topsy's favorite songs today so the kids could cheer sick Topsy up. Well they sang to Topsy with huge enthusiasm and stopped him dead in his tracks with a huge smile on his face.
And.... (drumroll!) we finished our series: The Bible in 10 Easy Lessons.
(It is a set of lessons that comes with the kid's music CD below)

Which means we finished our banner as well. Yeah!!! It is certainly no masterpiece though, let me assure you!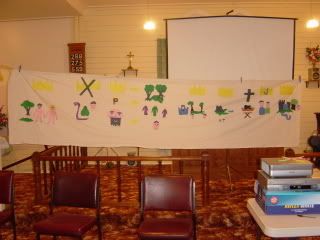 Basically the 10 lessons are summarized as follows:

1.CREATION – God's people happy in God's place (Genesis 2:4-25)
2.THE FALL – The Temptation to disobey God (Genesis 3:1-24)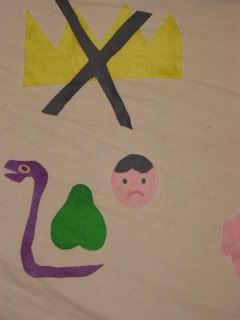 3. PROMISES OF BLESSING – God's promises to Abraham (Genesis 12:1-3)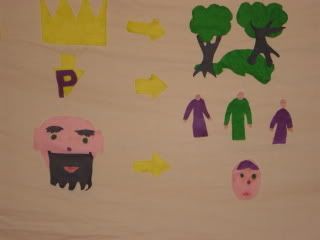 4. KING DAVID RULES GOD'S PEOPLE – (2 Samuel 7)

5. SOMETHING GOES WRONG King Solomon disobeys God (1 Kings 11:1-10, Exodus 24:3-4) (whoops! I taught the lesson but forgot to put the pic on the banner! Typical of moi!)

6. THE EXILE – God's people are punished and everything is a mess. But what about God's promises? (2 Kings 24:8-16)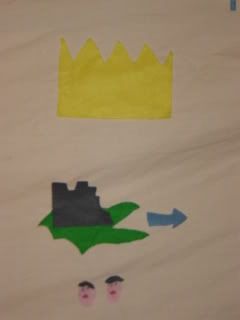 7. THE BIRTH OF JESUS – Jesus is from the line of Abraham and David. He will bring God's blessing and rule forever on David's throne (Luke 2)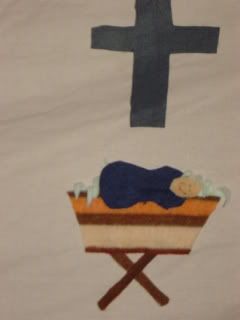 8. PAYING THE WAGES OF SIN Jesus dies for our sin (Whoops! Ran out of room and had to put it's pic together with Jesus birth above!)

9. THE RESURRECTION – Jesus is the Risen king (John 20:19-31)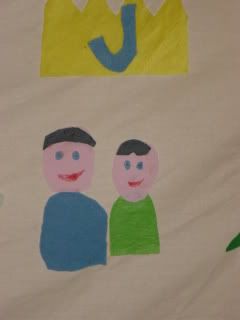 10. HEAVEN – God's People in God's place again (Revelation 22:1-6)

Today we went through the pictures on the banner, and the kids took turns coming up and explaining each one.
And they have remembered all the key stuff!
Hurrah!

Next week we start the CD sequel: Meet the King- a series of lessons looking at Jesus' life on earth. There is a banner for that too!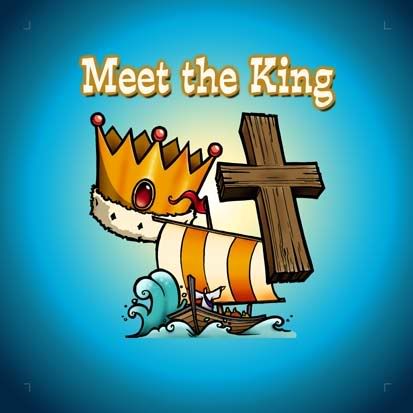 I hate banners, 'cause I am really bad at them.
I have to remind myself that it is such a great way for them to learn and remember God's Word.
Posted by michelle :: 9:12 pm :: 10 comments links to this post


---------------oOo---------------