Friday, August 18, 2006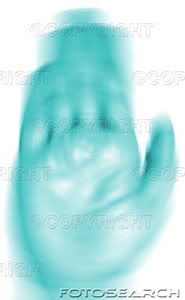 I'm not going to drone on about about our week of sickness.
Boring!
But I did glean two humourous moments in the mayem. :) And I will share them with you.



Moment of Delirium

- Yesterday, fevers were raging! Roly, Topsy and I were in the living room.
I was just about coughing up my liver, Roly was about to spit up his lower intestine, and Topsy was crying with gusto.
I was trying to do something. Not really sure what, but I was doing it with gusto.
Not till I found myself gazing into Roly's terrified gaze did I stop.
I had been trying to forcibly attach the velcro ends of one of Topsy's bibs around poor Roly's much too wide neck!
Moment 2

: In Emergency last night, Roly and I had the misfortune to be placed in a bed next to a poor woman whose every breath was total agony.
For the two people with the most active imaginations in the family this was not a great thing. We could not see her, only hear her excrutiating grunts. We were both trying to guess what was wrong with her, Roly in whispers to me and I in my imagination.
Roly was convinced that she was having a baby. (which is what it sounded like, except that she was having no break in contractions if she was!)
The mystery was solved when I heard her husband mention 'back spasms' to the nurse who came to assist her to the toilet. Roly did not hear this, because as she gingerly passed us on her toilet trip, with one hand pressed protectively to her chest, (I guess to keep as rigid as possible) he took one look and then gravely whispered his sad diagnosis, "Breast cancer."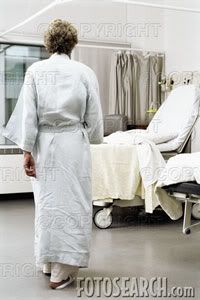 I read alot of you guys' blogs this week, but did not feel up to commenting. Sorry. I will try to make up for it some time today. I missed you all!

Posted by michelle :: 10:07 am :: 13 comments links to this post


---------------oOo---------------