Friday, August 25, 2006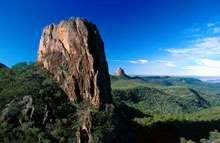 *Edit* doc's prognosis- Bad chest infection with bronchial spasms. Stay warm and dry and have a weekend of bed rest so it doesn't turn into pneumonia.
He had a little fit when I told him that we are going to the Warrumbungles this weekend! LOL!
Well I'll do the 'stay warm and dry' part.
And what mother ever got to stay in bed?
Hello?

Have a great weekend girls.
Sorry if my comments are a bit short at present. I am feeling a bit out of the loop with posting etc.
I will be going to the doc on Monday, 'cause this thing's not shaking! The only upside of being sick is that I have lost 4 kgs! Hurrah!

We are going away for an overnight break tonight (to the place in the picture above), so I'll post some pics when we get back.
Talk soon, and I look forward to reading your news over the weekend.
Posted by michelle :: 9:09 am :: 21 comments links to this post


---------------oOo---------------