Friday, July 21, 2006
I have had a bit of fun this evening. Several of you, my international blog buddies have mentioned that if we are ever in your area, to come and visit.
And I got to thinking. What I would show you if you came to my part of the world?
So expect a post with some of my ideas soon! Maybe tomorrow.
In the meantime, what would you like to show me around your area, if I was headed YOUR way?!

In other news:

I have done it.
I'm off my meds. (I can hear my doctor's gasp! She is one of my blog buddies)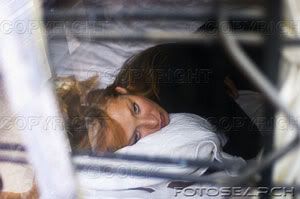 This past year, I have been on anti depressants for post natal 'issues', (though with my gene pool, post natal issues are probably only a drop in the ocean!)
What a help the medication has been. I have gone back to being the 'old me' after a time when I really felt lost and overwhelmed'.

Coming off such a strong medication has required a gradual weaning process, but for two and a half weeks now, I have been on nothing.
And you know what? I feel great. Like my old self still!
Poor Hubby. I think he is still a little tentative, and looks slightly panicked anytime even the hint of a frown creases my brow. :) But so far, I am feeling back to how things were before Topsy came along.

Anyways, I plan to keep a little diary for myself here, listing any changes I see.


One thing I have noticed already, is that I no longer desire chocolate every single night.
Phew! I am so thankful for that. Over the year that I was on the medication, I gradually gained 10 kgs. It will be nice to lose that!
Also I have a renewed yen for cleaning and MINIMALIZING! A little like the nesting urges I had before I delivered Topsy.
So that is me.
Natural and nutty!

I'll talk soon.
Have a fantastic weekend!
Oh and here are a couple pics of poor Topsy. He is sick and green-boogery. Poor dear





Posted by michelle :: 8:15 pm :: 14 comments links to this post


---------------oOo---------------