Saturday, July 22, 2006
If the title makes you think that this will be a long entry, you are right!
Well, it may not actually mean that at all, 'cause I haven't even worked out what to write yet.(I'm doing that as I go. Heehee!)

It has been a normal Saturday. Our kids do sports during the school week, rather than on a Saturday. We need that day to recuperate as our Sundays tend to be quite full.
Though it was cold outside, they came up with some new games ideas!
OK, well Spindles preferred his PJs and the couch!
My little 'hoodlum' is still sporting a cold so I rugged him up. Babies look adorable in hoods, don't you think?


Living Room- Tick!

Yes, it is true! I have a whole room MINIMALIZED!
So far, the master bedroom is done, but I need to sort out the suitcases under the bed as well as a couple of boxes in the cupboard, so that doesn't get a full Tick!
Roly and Spindle' room is done too, but I have about 10 minutes worth of sorting clothes that prevents it from getting a full Tick.
But as of today, the living room is fully ticked off the MINIMALIZE MAMA'S HOME list!
Hurrah!! I am rather proud of myself.
Above are some pics of previously cluttered areas that I have decluttered and cleaned out.

Oh and here (below) are the pictures that hang on my living room walls.



The Birds and the Bees: How Not To
A Guide




Oh yes. I went and did it!
That special talk. (Or the first of many I would imagine!)
But this was not a talk about body changes with Roly or Spindles.
No.
Sadly it was Diva I had to fill in.
She is only 7 !(or will be in a month) But there have been girls at school who have started their periods at age 8! Isn't that too young?!

Well, the timing was perfect. We had just finished doing each other's make up just for fun. Why is it, by the way, that Diva always ends up looking glamourous after our makeovers, whereas I seem to collect an impressive amount of red lipstick around the vicinity of my NOSE?

Anyways, I digress. I drew a deep breath and called her into the bedroom.
What I should have done: Read some material on telling kiddies this size.

What I did:

Diva: grinning toothlessly up at me with anticipation.
Me: 'Mummy just wanted to talk to you about how your body might start to change in the next few years. These changes are all really exciting but they can be a bit scary if they take us by surprise..." (I give her a couple of examples of how Mummy was taken by surprise)

Diva: stares at me wide eyed, her top lip curling slightly with distaste at hearing about the suprises Mummy got.

Me: "......and God has made us so carefully and wonderfully. Do you know that there are eggs inside a lady's body?"

Diva: (Her eyebrows framing her bulging eyes like two brown rainbows of horror) 'Huh? Like the chickens?"

Me: forging ahead with false bravado. "Heheh! No not like the chickens.... Well sort of.... Well not really. The eggs that are inside us have to come out too, like the chickens. But they are not the kind that we would put in the fridge (thinking in slow motion: did I just say that?)"
Diva: What about Roly and Spindles. Do they have eggs too? ( I can see in her mind that she is mentally working out an egg collecting scheme where she comes out on top. They are pretty competetive about collecting the chicken eggs.)
Me: Actually no. Boys' bodies go through a whole different kind of change as they start getting ready to become adults..... (small description follows) .... And with girls, when we are old enough, our eggs start to come out, one at a time... (and I explain this part at least, pretty well and simply) .

Diva: her eyes are glazed over, but other wise she seems OK.

Me: Something to the effect of: 'Hey do you want to come see some of the cool stuff we can use to catch the egg?'

We raced to the drawer. Diva was showing a lot of enthusiasm at this part.

However the first one I unwrapped turned out to be my only post-partum pad left from having Topsy. And it was a shocker.
I wouldn't have been surprised to learn that this particular pad had the capactiy to soak up 50% of our local dam water! It made a real impression on Diva. Even me pulling out my most recent stash didn't seem to erase the memory of that sucker.

Back on the bed, debriefing.
Diva: rolling her eyes. "I am NEVER going to grow up."
Me: (In that case, thanking the dear Lord that I did not delve into the realm of Mummy and Daddy's special 'cuddles') "Well, guess what?"
Diva: (suspiciously) "What ? "
Me: "You don't have to. You do not have to grow up till you want to."
Diva:cracks a smile and runs away.

Next time I will read a how-to book first!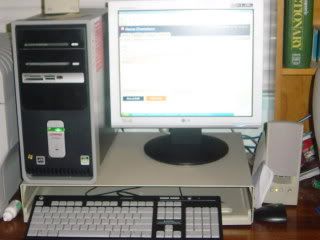 And to finish: Look what Hubby surprised me with. Mine all mine! It was a huge surprise. My old computer has not been working right for a long time. I use it for all my sunday School prep, Kids Club and Book Club stuff. (and of course for blogging!) So Hubby has totally made my year.
Have a great weekend all! See ya Monday!
Posted by michelle :: 6:47 pm :: 10 comments links to this post


---------------oOo---------------