Tuesday, June 20, 2006
I wouldn't not do it, because I know it is beneficial and life saving, and I am grateful I live in a country that offers it freely.

I also know that all around the world people are suffering unimaginably with incurable illnesses, and that in comparison, this is nothing.

But I agonize over it every time.

Yep, it's that time again....
Immunizations, boosters, shots, needles. Pain!!!
*shudder*

Tospy is 13 months old and should actually be having his fourth set of immunizations, but yesterday I took him for his 3rd set.

I was not even afraid, actually. Since my last baby (that is Diva. Or actually since seeing Topsy in such distress for his first needle) I have discovered Emla patches. (see below.)

These are patches with an anesthetic cream in the centre. You place them where the needle will go, an hour before the appointment.
They worked perfectly last time.
Not even a whimper!

So I didn't even feel nervous till just before we got to the surgery.

The nurse called us in and went through the form.
When I took his pants of, she looked at the patches and said. "Oh no!"

"Oh what?"

"Sweetie, you've put the patches in the wrong spot this time. It would be dangerous for me to give him the shots there."

"Oh no!!!!!!!!!!!!!"

I was desperately hoping the numbing affect would have travelled up the leg some.

But the ear splitting shrieks caused me to doubt this.
Then we turned my poor boy around and that one was worse.

He stayed in with me for the 10 minute safety check, sobbing pitifully, totally inconsolable (even by my milk bar!!)
Then the nurse reached over and place a lolly in his hand.

Instant
Total
Silence!!
Go figure.
The rest of the day, he struggled to walk with his little sore legs. He had his first sitting down bath in ages, because it was all achy.
This morning however he woke up totally fine.
So that's all done....... for six months at least.
We had our first international dinner tonight at Bible study tonight.
It just so happened to be Kenyan night.
Not just because of me actually, but because Funny Farm's family support a little boy in Kenya.
I only got two pics of our lovely food before the camera ran out of batteries. And I couldn't get the flash to stop either.

Here is the rice and ugali (a maize meal cake on which you put stew) Note the Pot of Sweet Chai in the background.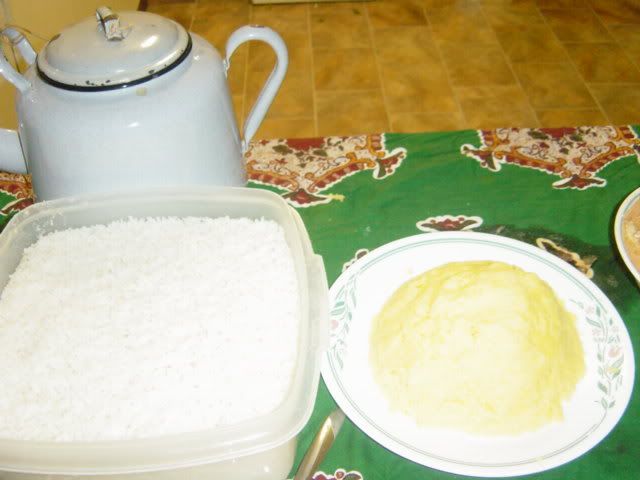 Chicken in Coconut Milk and Irio (vegetable mash) And to the right is a big pot of yummy Sukuma Wiki.


We also had delicious Sukuma Wiki (thanks Funny) and it was pretty yum. Kenyan food is very bland. Roly was slightly disappointed, hoping for Ethiopian spices.
Well my buddies, this is my last post for at least 11 days. My Mom comes tomorrow for a brief stopover (ooh actually might try to show a couple pics from that!)
And then I am off on holidays. (Without my hubby sadly. He will just have to try to wrestle WOW, a computer game, out of his system while I am away.)
Talk soon, and God bless.
Posted by michelle :: 8:45 pm :: 14 comments links to this post


---------------oOo---------------