Monday, June 05, 2006
We got Roly off on his excursion last Thursday without a hitch. His bags were packed (the list was very specific)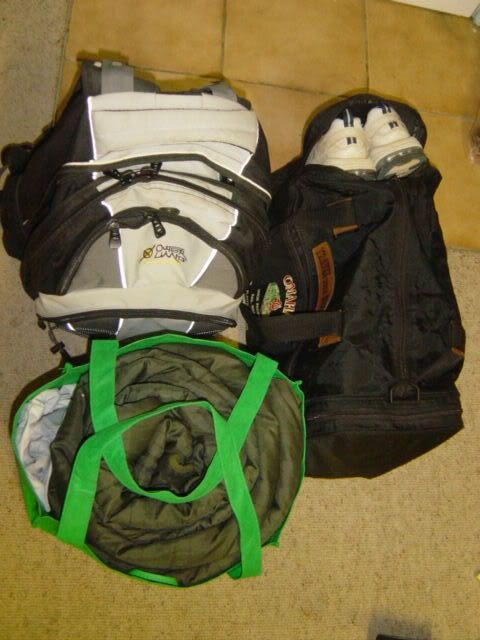 And I baked my very famous (heehee, not really, but it is exquisite) chocolate cake and choc chip cookies till 11:00 the night before.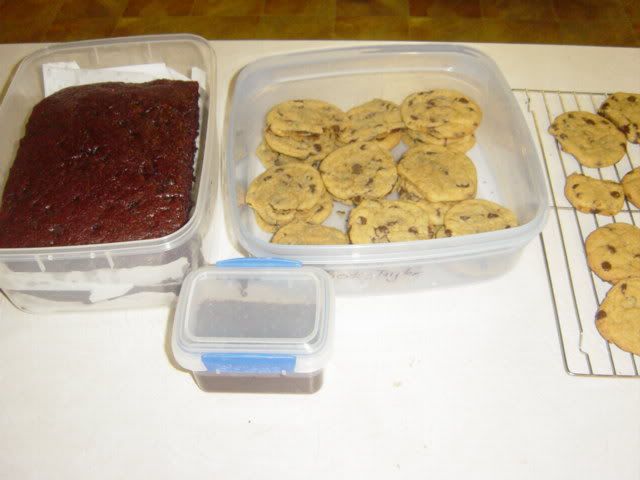 We dropped Roly off at the bus, found his best friend, packed both their luggage in luggage compartment, kissed him goodbye, and then I walked back to the car.
Precious boy, called out after me and hurtled over for a last kiss (bit like in the movies!)
And then boy did I pray.
That he would have a great time.
That all the things he was so excited about would live up to expectation.
That he didn't accidentally get himself expelled!!!
Anyways on Friday I picked up the other kids and then I saw all the Stage 3 kiddos waiting around for parents to pick them up as well.
And this is what met my eyes: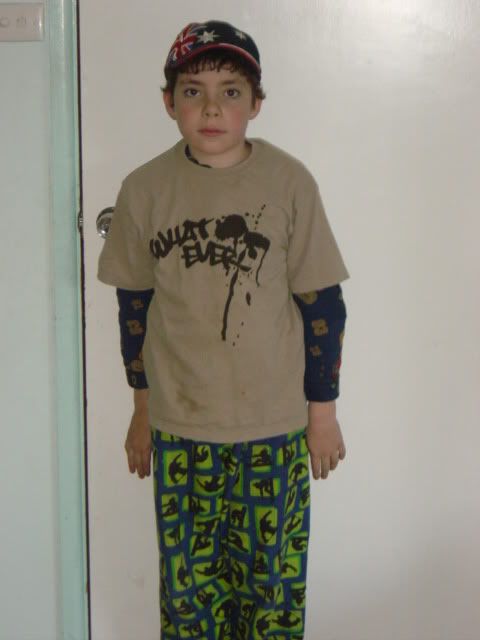 My boy in PJs with just a shirt over top!
I just about had a cageful of canaries!!!!
Of course I never let on, big hugs, kisses and all the rest.
'How did the camp go?' I gush.
'OK.', he says.
'What did you do?' I encourage.
'Played adventure games, spotlight, made our own food, had a couple of devotions, went on hikes,' he says.
'How was it at bedtime?', I ask.
'The boys in my room were mean,' he states.
'How?' I manage through gritted teeth, my fists clenching instinctively.
'They shone their torches in my face,' he says.
'Why?' I ask, baffled.
'They were playing a game,' he explains.
'Did they shine the torch in each other's eyes?' I persist, fingers and jaw relaxing slightly.
'Yes,' he admits thoughtfully.
'I think I would have been more worried if they hadn't shone the torch in my face then, don't you?' I suggest heartily.
'Maybe,' he agrees.
'How come you are in your PJs?' I ask with careful nonchalance. (aren't you proud of me!)
'The group I cooked with was terrible at making our food,' he says as an answer.
'Mmmhmmm.' (waiting)
'So I got damper (Aussie camper bread) dough all over my pants,' he says with a shamefaced grin.
'What about your other clothes?' I say with a slight pitch to my voice.
'They got all muddy from the spotlighting,' he says.
'Did the teachers say anything about it?' I ask incredulously.
'No," he says matter of factly.
!!!!!!!!
******************
So all in all he had a good time.
I was all baked out from Wednesday night's efforts and had no real afternoon tea plans. Then Roly informed me that the cake (the famous one) had not been touched at the camp and was in some teacher's classroom.
So we got it, took it home and ate it.
Their loss! :)
PostScript.
If you had been driving along the highway to our town on Saturday around 1:30pm,( just after Life Fest) you would have seen a little green car set awkwardly along the roadside, a helium balloon bobbing sadly out the window.
And if you had driven further along, you would have seen some people walking brusquely along the highway: a crazy looking woman laughing hysterically, pushing a resigned baby in a pram, and two unimpressed children tagging along behind.
Yes, we ran out of petrol.
In the car that we have been loaned.
And when I got my mobile phone out to dial Hubby to come and rescue me, it rang our house twice before dying. (I charge it in my own car you see!)
I actually found the whole predicament hilarious.
So we had to walk to get to a phone.
Observation: 100 kilometres/ hour is actually VERY fast if you are stationary!
The first house we found was so dodgy looking, I was pretty sure we'd end up as lampshades there, so we gave it a miss.
The next house was only slightly better, but there was no one home.
Just as we set off in search of another house, Hubby screeched up dramatically.
Apparantly we had been recognized and someone phoned him.
Yeah!!!
Hubby measured that we walked 1 and a half kilometres.
The kids really did well then, didn't they!
Posted by michelle :: 10:44 am :: 10 comments links to this post


---------------oOo---------------