Saturday, May 06, 2006
Our Sydney Trip- A Blow by Blow Account! (Lucky You!!)


It started at 5:15 in the morning on Wednesday. We had to be ready and get to the airport an hour beforehand.
I drove Topsy and myself (Topsy was a surprise baby, and we are yet to get a car that fits us all in at once! I drive a small car and hubby has a big one (yes, this is how I describe cars: by size and color! Hence I had to drive myself.) in to the airport, seeing as parking there for several days is free.

It was a freezing cold morning and I hustled us over to the airport, anticpating the warmth that would envelop us as we walked through the automatic doors.
Except that the automatic doors did not open. None of them!
In fact probably half the flight was shivering outside before an official came and let us in. So much for 'get there an hour before!"

Some things I noticed whilst in the air:

1) Flying with a baby is not fun. No offence Topsy! He squirmed out of his seat belt numerous times, would not sit still and only stopped if I was singing one of his songs.

2) Flying with a baby can be advantageous. They left the seat beside us free! It made me less concerned about the noise factor. You can potentially get a double serve of food, too. =)

3) Topsy can really chew up food well. He ate the entire ham and cheese croisant the attendant gave him. There went the potential of the double serve! I was quite disapponted. I could have gone another half one!


Topsy guarding his nappy bag at the airport


My Dad picked me up at the airport, and it was then I discovered that they thought Topsy was staying home with Hubby and siblings for the two days. They had just assumed one thing, and I had assumed they knew I would bring him! Either way it came down to this: there was no car seat ready.
Finding one was quite a drama, but if anyone can find something, my parents can!!!

Later that afternoon Ssil (Sydney-sister-in-law) and Sbil (Sydney-brother-in-law, pronounced 'spill') took us to their place. We had a great visit.
Components of a great visit?

1) Lots of great conversation. Itwas so good to catch up. Ssil is a great letter writer, and I never have written her back. Isn't that terrible? We talked for ages.

2) Lots of laughter. Comparing notes on married life and Sbil's wacky sense of humor took care of that front.

3) Lots of good food. Thai and Indian!!


Double click on this pic if you can. Unky Sbil showed up with the strangest moustache. He is just back from a month's mission in India and while he was there grew out his facial hair. When he got back, and shaved, he left this really big mo that stretched from one cheek to the other. He looked like some kind of guru trying to palm off a spiritual enlightenment book!
I was so excited to get a shot of it, but this one below is the only one I got. He showered before the official shot and shaved in the shower. Arggggh!!!!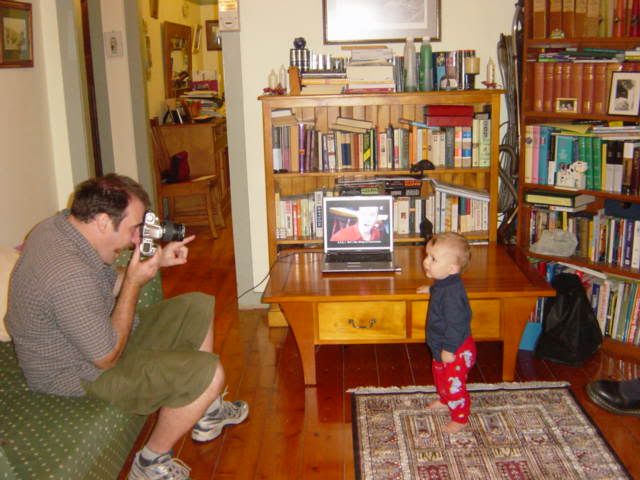 Ssil. BLoomin' beautiful!!

Out on the swing.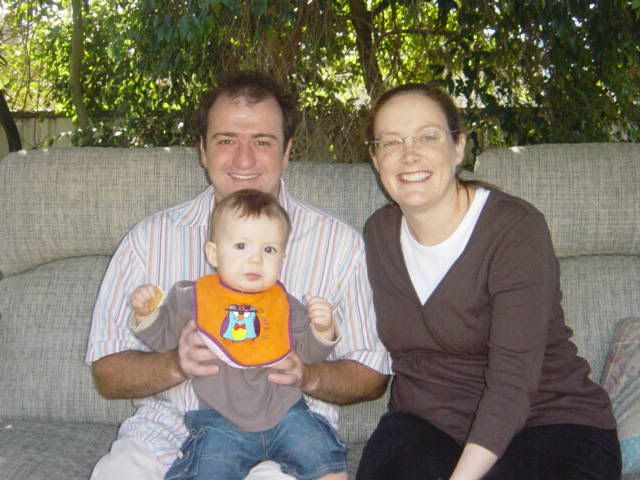 We spent our second evening at Mom and Dad's. Dad has just finished a huge project, so to celebrate Mom made chapatis and stew. Sooo good. We were all a bit disappointed in the celebration cake she had bought, but at least we can all say we didn't go back for seconds!
I caught up on lots of news of mutual acquaintances, plus a few giggles, then toddled off to bed. (Topsy did not enjoy sleeping in foreign cots and wailed miserably during every naptime, btw)
AZDaisy, you asked for Sydney pics and I really got none. We only went to a mall. I was going to take shots of the congested traffic on the way to the airport, but could I find my camera when I needed it?
Sorry about that. I may have to do an OZ saafari for you instead.
Anyways, the flight home went better. Tospy was more content to snuggle and sit still.
I came back to erth with a jolt. I had a scheduled meeting with the kid's principal as soon as I landed, and when I got there who was in the foyer? Roly! Waiting for someone to pick him up 'cause his nits are back. Arrggh!
Welcome back Big Mama!

Posted by michelle :: 6:55 pm :: 11 comments links to this post


---------------oOo---------------