Sunday, May 21, 2006
Mama Chameleon: Kitchen Pest Detective

I love a mystery! I generally have about three whodunnits going at the same time: one in the bedroom, one in the bathroom (to read in the bath) and one in the loo *blushes*.
I love to know the WHY of the whodunnit most of all.
Well we have had our own personal mystery going on in our kitchen for a while now, and this weekend I decided that enough was enough and it was time to solve it.
We have had little black weevily things (I am about as technical as you AZ Daisy!) appearing on our microwave and near our electric jug for ages now, and have not been able to find out where they have come from.
I was actually starting to wonder if they were a wood burrowing insect, but could find no holes in any cupboards or any tell-tale saw dust.
Well, I pulled every food item from the pantry as well as every other food cupboard and started to go through it all methodically.
Some interesting finds.
A tupperware container of oatmeal that was green and full of little moths was the 'piece de resistance'. It was a sealed container too, so I was not all that impressed with Tupperware!
But no little black weevily things!
I admitted defeat and started the headache of cleaning and re-storing our food. I wiped the top of our microwave clean. I
t was then I noticed some little black weevily things climbing towards me from the back of the microwave.
I shoved my hand down there and this is what I pulled up.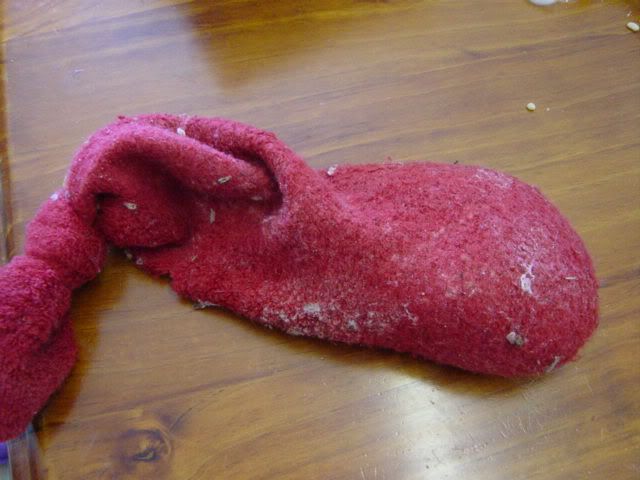 What is it? Well till I cut it open and emptied it, it was a homemade heat pack.
Roly had a tummy ache months ago, and I couldn't find any heat packs so I made one with one using one of Hubby's socks and some rice. And here it was.
It smelt off and had weevil webs all over the outside.
Just about gagging, I got a pair of scissors and cut it open emptying out the rice.
This is what it looked like. Double click on the image so you can really see.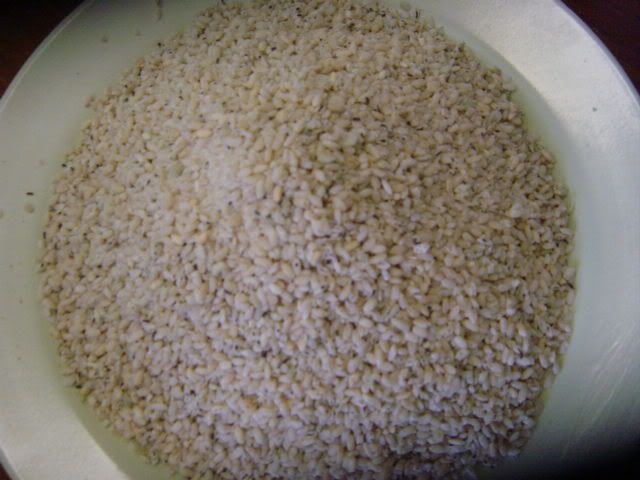 Every piece of rice was hollowed out and the whole thing was crawling with weevils. Ugh.
But in a way it was so satisfying. I love a good mystery!
In other news

, Topsy got his first pair of shoes. So many people have given us hand me down shoes, (the like of which I would not be able to afford), but none of them fit him yet. So I bought him an 'el cheapo' pair till his feet get bigger.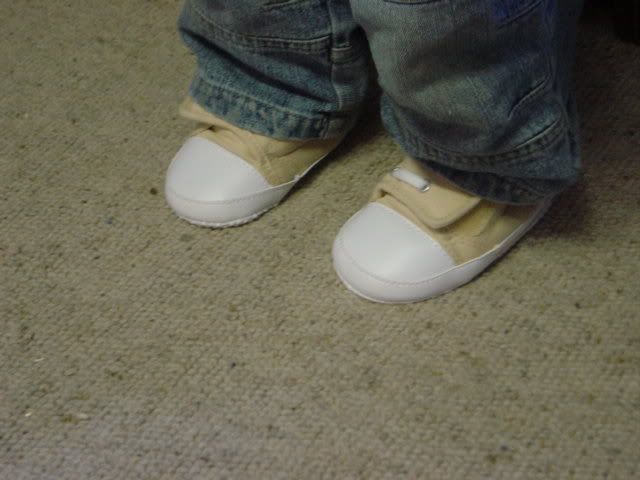 I captured these shots shortly before he sat on the floor and grizzled while trying to pull of his shoes and socks
.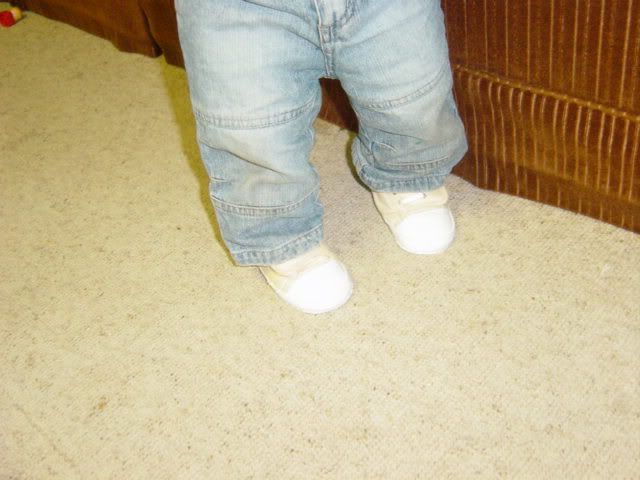 He actually refuses to walk when they are on. I must be raising another little African.
Actually on that subject, I realized as we got out of the car at church this morning (a frosty spring morning) that Diva was all dressed up, but shoeless. And totally clueless, as to why I lay face down on the ground and pounded my fists into the frosty soil. (OK, well inwardly I did.)
I had a great quote from Diva in Sunday School today, but I didn't write it down so it is forgotten for now!
Posted by michelle :: 9:54 pm :: 11 comments links to this post


---------------oOo---------------