Tuesday, May 09, 2006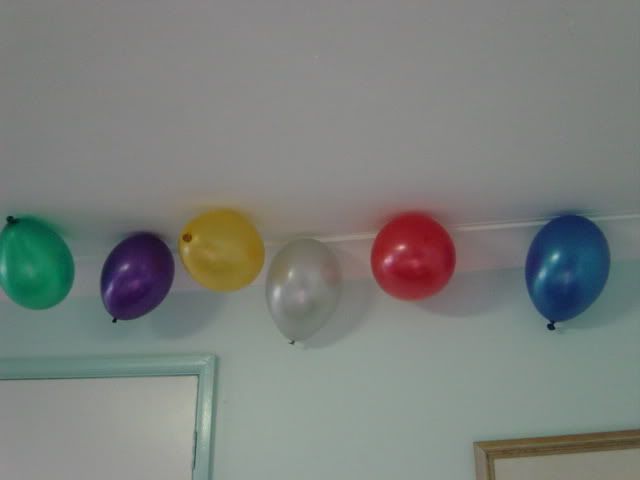 H
a
p
p
y
B
i
r
t
h
d
a
y
T
o
p
s
y
!

!

!

!
!
How fast that year has gone!!
Topsy is quite bemused about why we can't seem to move on to different song. He has heard Happy Birthday, oh....., about 50 times already!

I was just looking at T's blog about what G's name means.
And it reminded me.
I loved Topsy's name from the moment I saw it. ( now this next piece of information may come as a shock, so find a chair. OK... Topsy is not Topsy's real name!! )
Back to the story... Hubby was not so easily enamoured, however ( by the name I had found, that is)
So imagine my elation when I discovered that one of the meaning's of Topsy's name is 'son of the red haired one.'
Background information needed: Hubby is a red head. He used to be a great deal redder, but for all intents and purposes, he is a red head.
He is passionate about being a red head, and behaves as though it is an exclusive club or something. Whenever he meets a fellow redhead they mutter incantations like "One day redheads will rise up and rule the earth."
Scary really.
But I knew that this time I could use the redhead card to my advantage. I told him wht the name meant, and after checking and rechecking the veracity of my story, it was a done deal!
Topsy became Topsy.

(Topsy looking at all the birthday balloons on the ceiling!)
And to make this day extra perfect, Topsy has started cuddling. He never been cuddly, but yesterday he started cuddling and kissing!
And yesterday he ate with a spoon for the first time. As in really used it. he has been trying for a couple of months. His shoulder and head have always been well fed while his little open mouth stayed frustratingly dry.

But yesterday it all connected. It clicked. It was still messy, but he managed real well.

Here's the aftermath of present opening.


Video Hosting - Upload Video - Photo Sharing

Video Hosting - Upload Video - Photo Sharing


I never got a photo of the presents before he got into them but you can see his new clothes and wrapping paper all over the floor.

I'll let you into a secret. We haven't got him a thing for his birthday yet.
!!!!! I know! It is a first for me.
I have always gotten several classic baby toys for the others.
But we have too much stuff!!! *tears her hair out*.
And he won't remember. So I wrapped up some things he hasn't seen in a while. And that big piano thing in the video is a long term loan that coincided well with today.
Topsy's favorite things were the balloons.

So Happy Birthday, precious Topsy!

Posted by michelle :: 8:40 am :: 7 comments links to this post


---------------oOo---------------