Monday, April 03, 2006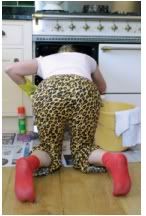 My Housekeeper
Today I have a housekeeper coming in for a couple of hours. Our lovely next door neighbours are overseas for six weeks and did not want to lose their housekeeper. They asked if we could get her to come to us once a fortnight in their absence.
I agreed.
So is this a picture of my housekeeper you might ask?
Ah...... no!
This is what Big Mama is doing right now.
Yes, I am cleaning my house so the house keeper can come....and clean my house !
Agggh! The shame, the shame!
Posted by michelle :: 8:54 am :: 6 comments links to this post


---------------oOo---------------