Friday, March 17, 2006
Isn't it a beautiful Day?!! =)
Thanks to all who read, mulled over, responded and checked out the sites I linked to yesterday. Today is a new day, and as promised, Mama is HAPPY! (Nothing like several hours of back breaking labour to make one ever so much more appreciative of one's airconditioner, and one's soft bed!!)
Soon after penning my checklist last night, I got up and attacked the undone jobs; those, that is, that would not wake my sleeping family. I worked on and off from 10:30- 1:00 am and completed : the backyard (though it is rather easy to clean a backyard when it is pitch black outside and you can't see beyond your own feet. Teeheehee! Snuffle. Snort.) I should probably go back out there now and see what it really looks like :0 ) I did the bathroom, the toilet, and the laundry. All I have left to do is vaccuum, do normal living room and kitchen stuff ,and make up the beds.

Now in other family news, today, all of Spindle's stage have to dress up as something to do with space. For some reason, I started thinking about classes full of walking planets and falling stars.
I've been a mother to my boys for 10 years, and I still don't twig sometimes!
Space means Star wars! Duh!

Well I don't sew and we are broke, so how was Spindles going to transform into a Jedi?
Borrow a Karate uniform!!
We turned it inside out. Then Spindles was concerned because he didn't think that Jedi wore belts. So I downloaded the picture above to show him how similar to Luke Skywalker Spindles actually looked.
Now the light sabre you see below was only a prop for the photos. Spindle's best friend is bringing the real deal to school for him.
Look at my handsome (and very solomn, for some reason) boy!
One blog I check out every day is Linda at
http://www.xanga.com/CHECmamamentor
. And I thought Linda would be interested to see what I the non-sewer ( as in 'to sew' not as in 'smelly stream of yuk)' came up with, so that is why I posted these pics. (If you are not happy about this link please tell me Linda, and it will be removed immediately!)
Linda is an exciting Mom. As a family they do such a range of fantastic activites and if you scroll through her site, you will see that she is a gifted seamstress. Her kids have these amazing cloaks that she has made them. You can tell how precious the cloaks are to the kids, 'cause they wear them in a lot of the shots.
It inspires me.
Check out Mama Mentor and let her know you visited.

Spindles took this photo shoot extremely seriously!!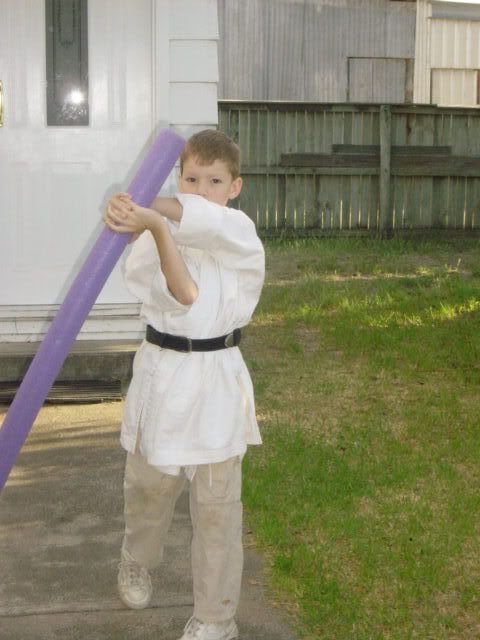 Posted by michelle :: 8:33 am :: 8 comments links to this post


---------------oOo---------------