Tuesday, March 28, 2006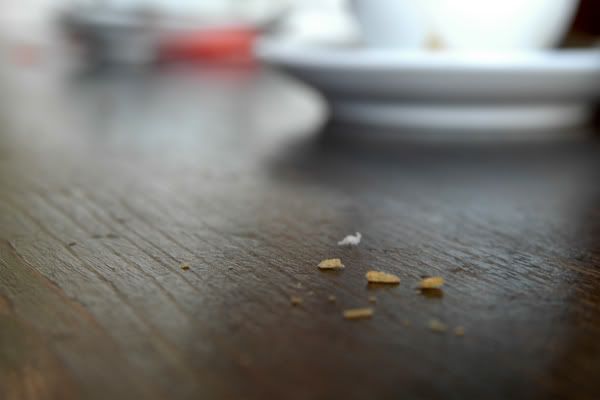 Crumbs From Our Table.....
*Today Diva went off to school in her sports uniform. she reminded me about it being a special gymnastics day at school, and please could I come help.
I vaguely remember recieving a note about gym, so I committed to going even though I'd only be able to watch her because of Topsy. Then I rushed around changing the venue of this morning's Bible study (and that is a whole nother story in itself, demonstrating my early dementia) in order to be freed up.
But when I called the school to check the time Diva's class would actually be doing the gymnastics, they knew nothing of it. 'No, Gym starts the first week of next term.' they assured me. Eeeek!
All the other mothers I called in the ensuing panic, confirmed this. My poor little Diva is the only one in her class in her sports uniform. Poor bubba!
*Easy-going Spindles is going through a real sensitive stage, in that he is very sensitive to things that normally don't bother him. Very easily offended and stays offended for a long time (as in for a couple of hours). I remember that this happened with him when he turned four and lasted several months. Is it a hormone surge?
*Roly has had a hard week or so. Name calling, ruler swatting, pinching; all of which happen when the teacher steps out of the class. Of course he feels like it is only him who is getting picked on, like everyone in his stage hates him. He had a terrible beginning to Year 3 (Year five now) because he was in a composite class , and the Year 4s were really rough on him as a new boy. Now he is in a composite class with them again (now they the year 6s and have had a couple of years to beef up!!!!). Last year was great and so far this year has been his best yet.
Roly really has come through some really rough bullying with a great attitude. He and his little posse looks out for other kids who are picked on, which I am so proud of. We can probably all identify with being bullied!
*Topsy has now got 8 teeth! He has added 'The Grimace" and "The Great Neck Strain" to his collection of faces. He has been standing and bouncing without anything to hold on to for a while, but is now daily taking a step on his own. Yesterday he took 2 1/2 steps. Getting closer! At 10 1/2 months he would defintiely be our earliest walker ( when he actually starts walking)!
*Hubby has been flat out. A difficult funeral (600 in attendance) yesterday. He has started running at 6:00 am every morning which will get easier whendaylight saving ends on Sunday! He is currently relaxing by watching the whole set of Sharpe ( Yeah, I have never heard of them before either! Sean Bean is the star).
*Big Mama? Well I am currently planning a flying (yes I am flying! So exciting!) visit to my sister-in-law in Sydney who is very 'with child'. Topsy and I are going, and my Aunty will come and help out for the one night I am away.
Posted by michelle :: 1:33 pm :: 5 comments links to this post


---------------oOo---------------