Tuesday, February 28, 2006
The Young and The Webless (aka Mama's Guilt)
OK so, in our household, insect life is considered not quite sacred, but still precious. I dislike webs in corners as much as the next person, but I only get rid of one if the home owner is out or if I move the home owner to another abode first.
Weird, I know.
Anyhow, there are two Daddy long legs who reside near the bath and have for a long time. Until recently. Topsy found them so irresistable, they got the hint and moved themselves!
Anyways, I hadn't seen them in a few days, but this afternoon when I wiped my hand on Topsy's towel in readiness to get him out, one of them fell onto the ground; slightly squashed and several of his legs a little the worse for wear.
Dumb spiders! They had set up their new web behind the towels! At first I fumed ' It's your own fault, lie there and die.'
But he kept trying to scramble up on his legs, and kept falling backwards. Poor little thing. I relented, picked him up and put him near a web lower down.
I kept washing Topsy who was delighted for the extra time in the bath ( more on that tomorrow), with one eye cocked to see 'Hobble's' ( yes by now he had a name!) progress.
And I saw something remarkable happen.
Spiders must be able to call to each other, ( or in this circumstance, scream!) because Hobble's roosting buddy came striding down from behind the towel and climbed clear across the other side of the bathroom to where Hobbles had been placed. He wove Hobbles a little support to sit in, and then pulled him up into it.
At this stage the actual owner of the web came out to see what was going on. Here are pikkies of what took place.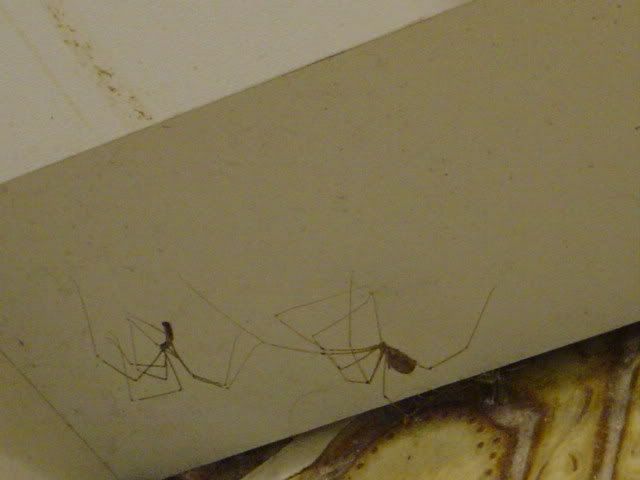 Hobbles is on the right. His buddy left and went off to make a new home. The spider on the left is the web owner. He came and touched Hobbles in much the same way that the buddy had.

Then he started to pull Hobbles up to his nest. Just as I was silently applauding his selflessness, he attacked poor Hobbles! Hobbles must have been his intended take away surprise!! Not while Big Mama was in da house! So I picked up poor Hobbles and put him in an empty web. (see pic below)
What am I doing? !! I know I will slowly drive myself nuts with this Hobbles saga. Did I mention that I heard a mouse in the roof last night..............
Posted by michelle :: 1:41 pm :: 3 comments links to this post


---------------oOo---------------